Magallanes with lowest unemployment rate in Chile, but quality of jobs is questioned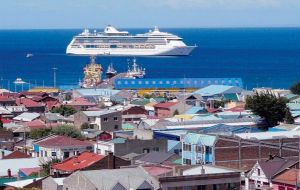 Unemployment in the extreme south Chilean region of Magallanes was the lowest in the country during the April/June quarter, 2.3%, according to the latest report from the country's stats office, INE. This is 0.5 percentage points less than the previous quarter and 1.4 percentage points below a year ago.
"This is excellent news for the region", said Carlos Abarzua, head of the regional Ministry of Labor office, although admitting at the same time that "there's still a structural unemployment issue we need to address", although it is decreasing.
In effect, according to INE people who are looking for jobs are 2.7% of the local workforce which is considerably below the 4.4% of a year ago. "This means that there is less people looking for employment and the jobs offer in Magallanes is greater than in the rest of the country...nevertheless we are not celebrating these figures", added Abarzua.
The official said that his office has plans to change the system to measure the jobless so "it becomes more representative of the region, but we are lacking the funds and the central authorities in Santiago don't seem inclined to have an index which takes above all the work conditions of the region".
"We are aware that there is a big discussion as to the precariousness of employment in Magallanes, and we need to measure the quality of jobs taking into account all posts offered and existent. We must advance in this area, but this has to be yet implemented at national level", explained the official.
Finally he suggested that the best path is to sit round a table with the INE people, "so we can request the funds for a regional poll or according to our region's parameters, and most importantly agree on the statistics methodology to implement and improve the quality of stats.
The INE index established that the unemployment rate in Chile during the April/June quarter was 6.5%, which is 0.2 percentage points higher than the previous quarter and 0.3 percentage points more than a year ago. In Santiago de Chile with 40% of the country's labor force the rate was 6.7%