Israel disturbed with Mujica's use of 'genocide' to describe the situation in Gaza
Wednesday, August 6th 2014 - 08:18 UTC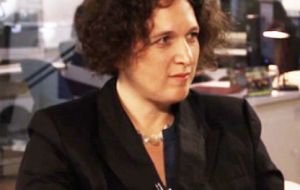 Israel is disappointed and concerned with Uruguayan president Jose Mujica statement that described the Israeli offensive in Gaza as'genocide', pointed out Jerusalem's new ambassador to Montevideo, Nina Ben-Ami. "These are not words to be used by a friend; we're friendly countries going through a difficult moment".
"We are deeply disturbed and disappointed by the president's words. 'Genocide' is a very sensitive word, particularly for the Jewish people and the people of Israel. What we are trying to do is defend our civilian population and cause the least damage possible among Palestine civilians. That is opposite to 'genocide', and that is what Hamas is doing: trying to kill the most possible in Israel", said ambassador Ben-Ami.
"I believe the Uruguayan government is not correctly informed about events or has a different point of view on the issue. Who is committing war crimes is Hamas, a double crime: hiding among civilians, storing rockets in schools, hospitals and mosques, and at the same time trying to kill civilians indiscriminately bombing Israel. Seventy per cent of the five million out of seven million Israelis are in the range of the Hamas rockets", said Ambassador Ben-Ami.
The Israeli official insisted she was very much concerned with Mujica's statement and "concerned because it is not the language of a friend, particularly when we are fighting a terrorist organization. We hope and expect a different dialogue and language between the governments of Uruguay and Israel".
On Monday President Mujica during an official ceremony said that "when you bomb hospitals, children and old folks, I think it is genocide. I admire the determination of the Jewish people and have had three ministers in my cabinet linked to Israel, so nobody can label me as anti-Semitic or anything like it".
He added that there is 'fanaticism' and this situation can't be supported because "with the power of Israeli forces they can move into any hospital, have it evacuated and then pulverize it".
"Everybody has the right to defend itself, but there are defenses that have a limit, that you can't do, as bombing hospitals, children and old folks", pointed out the Uruguayan president.
Asked if he was willing to mediate in the conflict, Mujica laughed and said, "they paid no attention to Barack Obama, you think they are going to listen to me?"
Also attending the official ceremony was the ruling coalition presidential ticket for next October, that used similar language, 'genocide' and 'criminal conduct' to condemn Israeli bombings and offensive in the Gaza strip.
"We've talked it over with my (presidential) ticket companion. What is going on is criminal. We fully support the position of the Uruguayan government on the matter because this is a real genocide", said Raul Sendic who is running for Vice-president.
"There has been worldwide repudiation. We are part of that position because it is serious and sensible", added Sendic. Former president Tabare Vazquez, who is running as presidential candidate next October said he supported "every word from President Mujica and the government. That is my position".
When Mujica was asked if he had plans to recall the Uruguayan ambassador in Israel, Bernardo Greiver, he said "that will be seen".
Ambassador Ben-Ami further on said that Uruguay and Israel are long time friends. "Uruguay was one of the first countries in the world to establish relations with Israel, and Montevideo received Israel's fourth ambassador".
However Uruguayan officials must understand that "Israeli civilians have been exposed to rockets from Hamas in Gaza for the last thirteen years. It is a territory we handed over to the Palestinians, hopefully for Palestinians to be free and enjoy. It is a wonderful place to develop tourism, but instead of that Gaza turned into an anchor of terrorism. The cement donated by the international community to build homes was employed in building tunnels to attack Israel".
Ambassador Ben-Ami underlined that if Hamas puts an end to its attacks, the conflict is over. "Prime minister Benjamin Netanyahu said it today: when our population stops being bombed by rockets, we will stop. We want peace, we are in peace with Jordan, Egypt and a relative good relation with the Palestine Authority, but Gaza is under Hamas control and they are determined to kill Israelis and eliminate Israel".
Finally Ms Ben-Ami pointed out that over 13.000 rockets have been fired into Israel territory, in the last thirteen years, seventy on Tuesday the very day that a cease fire was allegedly agreed.