Argentina closer to contempt of court as it suggests bondholders to change paymaster
Thursday, August 7th 2014 - 07:02 UTC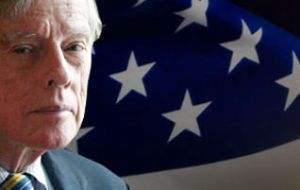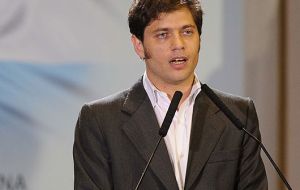 New York district judge Thomas Griesa and the Argentine government are again on the collision course: while the magistrate has ordered the Bank of New York Mellon to retain the funds deposited by Argentina to pay exchange bondholders and declaring the payment "illegal", the Ministry of Economy in Buenos Aires suggested bondholder should change BONY for a new intermediary institution.
"BNY shall retain the funds in its accounts at the BCRA pending further order from this court and shall not allow or make any transfers of the funds unless ordered by court," a statement signed by Griesa reads.
The NY judge described the payment as "illegal", as it does not follow his ruling on the so called "vulture fund" case, where he sentenced Argentina shall pay exchange bondholders and holdouts altogether.
But according to the statement put out on Wednesday by the Argentine government one of the options at creditors' disposal in order to receive the 539 million dollars which have been blocked by judge Thomas Griesa would be to change the BONY for a new intermediary institution.
"The Argentine Republic, by way of this legal notice, is meeting its obligation to guarantee Argentine debt bondholders who participated in the swaps of 2005 and 2010 their right to be aware of the precise, complete and correct information regarding the current state of compliance with the Republic's obligations under the trust indenture and the rights and legal solutions available to them, since the funds deposited by Argentina... are their exclusive property," release reads.
"First of all, just as informed in the Legal Notices of June 27 and July 7, Argentina has carried out on time and correctly the payment of the amounts corresponding to interest services on the New Titles".
"As a consequence, there has been no debt event under the terms of the Trust Indenture of the Restructured Bonds," the Ministry underlines.
Likewise the Economy ministry headed by Axel Kicillof reminds creditors that "Funds that are your exclusive property are being retained," and that they are entitled to appeal against Griesa's rulings in the New York District Court which form part of the legal dispute against holdout investors. The New York South District Court has no jurisdiction over the Restructured Bonds of 2005 and 2010".
The Argentine government reiterated in the statement that it would "continue to pressure the Financial Agent (BONY) to meet its obligations established in the Trust Indenture and call on the United States Justice System to remove the roadblocks that currently interfere with the correct distribution of payments that Argentina has made."
"Lastly, we remind the bondholders that several rights - and their appropriate solutions - exist through the Trust Indenture in the event that the Financial Agent does not comply with its obligations, in particular that of transferring payments that Argentina has made," underlines the release.
"Just as an example, it is appropriate to point out that Article 5.9c of the Trust Indenture allows for the majority of capital bondholders to remove the Financial Agent from their charge at any point and designate a successor: and Article 7.1 outlines the changes that can be made to the Statute"