Mercosur trade deal is a priority for the EU under Italian presidency
Thursday, August 7th 2014 - 06:32 UTC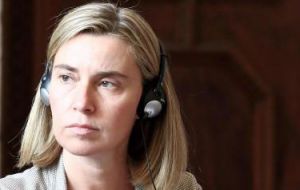 Foreign minister Federica Mogherini pledged that under the current Italian presidency of the European Union, top priority will be given to signing the pending trade agreements, among which that with Mercosur still under discussion.
The Italian minister is on an official visit to Chile where she gave a magister conference at the UN Economic Commission for Latin America and the Caribbean, in Santiago in which she underlined the importance for Europe of having closer trade and political links with other regions of the world.
Mercosur in its latest meeting in Caracas, (the several times delayed twice annual presidential summit) also agreed that the priority for the group was to conclude negotiations with the EU. Discussions started in 1999 and have been going on and off for years with the purpose of establishing a major free trade area.
Mogherini also anticipated that the EU would strengthen bilateral dialogue with Mexico and has plans to resume talks with Central America on security issues.
"The EU is committed to revitalizing the EU and Celac (Community of Latam and Caribbean States) links in anticipation of the coming joint summit to be held next year in Brussels, which is one of the purposes of my trip and other visits planned further on to other countries of the region", said Mogherini
The Italian minister added that the two regions in the near future have some major challenges ahead "such as redefining cooperation, based not only on shared values but also on the joint battle against climate change and a new post-2015 development agenda"
"The strategy must include sustainable development, economic stability, support for growth and free trade, clean and renewable energies, food security, social inclusion and gender fairness", added Ms Mogherini.
"There's no way we can continue to address issues as always in the current world. We must identify those structural change factors which exist in the global context and generate more consensuses among all our partners and thus create legitimacy before public opinion and social actors", underlined the minister.
Before her conference at ECLAC headquarters, Ms Mogherini met with President Michelle Bachelet and her peer Heraldo Muñoz. The Italian minister is scheduled to represent her country on Thursday at the inauguration ceremony of Colombian President Juan Manuel Santos second consecutive mandate in Bogotá.
Ms Mogherini has been nominated by her government to the post of EU foreign affairs commissar. Her rival for the position, to be decided at the end of the month is Poland's foreign minister, Radek Sikorski, considered "just right" for the task.
However several eastern European governments reject Mogherini, 41, a center-left politician who has been a minister only since February. They think she lacks experience and is too Moscow-friendly because of Italy's close business ties with Russia and the country's reliance on Russian energy supplies.
Overall, Mogherini's chances seem higher than Sikorski's, also because the bloc's center-right leaders already secured other top EU jobs. A summit of the EU's 28 leaders on Aug. 30 is set to pick the new top diplomat, who will take office in November with the rest of the new EU Commission.
Whoever is chosen then will succeed November first, Britain's Catherine Ashton as foreign policy chief and Commission vice-president under a leadership change triggered by elections in May.