Argentina announces measures to prop the economy and avoid redundancies
Friday, August 8th 2014 - 09:07 UTC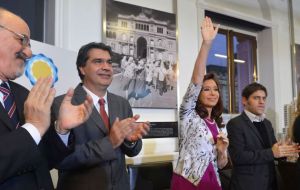 A day after Economy minister Axel Kicillof admitted problems with the Argentine economy, president Cristina Fernandez announced on Thursday a battery of measures to prop economic activity, open the labor market for young people, avoid redundancies and give the property market a thrust.
Speaking on national television the president put the emphasis on the anti-cyclical measures to be implemented by Industry and Labor ministries as well as the Central bank. She also called on Argentines "to consume which is the only way to ensure economic activity".
Regarding employment the Argentine government will re-impose a program which avoids layoffs at companies that receive government funds.
Likewise the Industry ministry will be responsible for implementing the renewal of short-distance urban bus fleets, which will complement similar measures in the trains system and that allegedly should benefit 16 million people.
The President also announced the re-launching of the CEDIN trade bonds that allow holders to purchase property and use it as an alternative method to paying with US dollars in order to acquire real estate assets, or any other transaction, as long as both parties involved in the transaction agree.
"We had complaints some bankers were not collaborating with the program. We are hopeful [head of the Central Bank Juan Carlos] Fábrega will settle this in a meeting with bank representatives" Cristina Fernández said.
Further details of the measures will be announced on Friday.
Nevertheless the Argentine president had time to do some bashing and blame others for the current situation.
"Why are we increasing government spending, very simple, because if business leaders don't take the initiative, who else but the government can do it? So please no more complaints about overspending", said Cristina Fernandez in a direct attack to the Argentine Industrial Union.
As to the current situation of the Argentine economy, the president said that the country's main trade partners are cutting back on their growth forecasts, Brazil is down to 1.3% and China to 7.5%, the lowest in 23 years.