IATA warns Venezuela it could be left isolated, if it doesn't pay airlines
Friday, August 8th 2014 - 08:31 UTC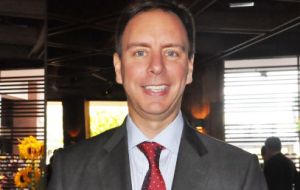 The International Air Transport Association (IATA) has reminded the Venezuelan government that if it fails to settle debts with international airlines, the country would be isolated from the world; hence, the association urged Venezuela to reach agreements, and above all, to fulfill such agreements.
"There are five airlines that have come to an agreement, but only two have received the amounts agreed, while the other three have not," said Peter Cerda, the Vice-president for the Americas, International Air Transport Association (IATA).
"This is the main concern for the other 19 airlines: the fact that even though agreements are reached, there are no guarantees the amounts agreed will be paid. In the six months following the agreement, the government has said several times it was going to pay, and they (carriers) are still waiting," he underlined.
The Venezuelan government is engaged in a dispute with 24 airlines claim settlement of debts amounting to more than 4.10 billion dollars. So far, the government has authorized the repatriation of 424 million to several airlines.
"At the beginning, the government authorized transfers with a reasonable frequency. Over the last year and a half, the situation has deteriorated because the government stopped authorizing transfers; therefore, it stopped paying its debt to airlines," Cerda explained.
Out of the 24 airlines hit by the freezing of funds, two decided to discontinue flights to Venezuela (Air Canada and Alitalia,) others such as American Airlines have drastically reduced their frequencies (by nearly 80%,) and almost all the remaining airlines have cut their capacity, offering less flights or using aircraft with fewer seats.
"But the result of the freezing of funds is clear: from the highest levels of service offered last year, airlines have reduced their capacity by 49%," Cerda added.
"The government has said that domestic airlines can cover what commercial airlines have stopped offering, unfortunately, the infrastructure is insufficient to meet that 49%".