Despite warning, Kicillof again defies and again accuses Griesa of 'partiality'
Saturday, August 9th 2014 - 07:45 UTC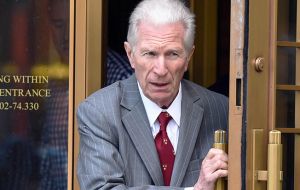 Economy ministry Axel Kicillof once again defiantly insisted Argentina has made a required debt payment on restructured sovereign bonds on Friday night, just hours after a U.S. judge threatened a contempt-of-court order if Argentina did not stop issuing such statements.
U.S. District Judge Thomas Griesa, who has overseen the nation's long-running debt battle with hedge funds, railed at Argentina's lawyers at a hearing in New York a day after the publication of another so-called legal notice insisting the government has met its payment requirements and was therefore not in default.
Holding a newspaper copy of the notice, Griesa said if the false statements did not stop, a contempt of court order will become necessary.
Later on Friday, however, Argentina's economy ministry issued a statement accusing Griesa of "clear partiality in favor of the vulture funds."
"Judge Griesa continues contradicting himself and the facts by saying that Argentina did not pay," the statement said.
At the hearing, Griesa said he was not going to go further than a warning for now. He repeated that the two sides must continue negotiating with the aid of mediator Daniel Pollack.
Griesa did not specify whether he might seek to sanction Argentina or its lawyers, though he said he was "glad" to hear Jonathan Blackman, Argentina's lead lawyer, say his firm Cleary Gottlieb Steen & Hamilton did not aid in preparing the government's latest legal notices.
Blackman also complained of being attacked and lampooned by the lobby group American Task Force Argentina, which is partly funded by holdout investors.
Shortly after the hearing, Economy Minister Axel Kicillof said on public television in Argentina, "We will continue to work tirelessly to defend the rights of Argentina," and added that "Judge Griesa did not resolve anything" in court.
"He created this confusing and extraordinary situation," said Kicillof, who also played down concerns the case would cripple investment in Argentina.
Argentina insists it cannot meet the demands of the court order, nor make a deal with the holdouts that is better than the terms offered in its two restructurings based upon a clause in its agreement known as the Rights Upon Future Offers (RUFO). The RUFO clause expires on Dec. 31, 2014.
Reuters IFR has reported that private banks are trying to reach an agreement with the holdouts that would pay them 80 cents on the dollar for their Argentine bonds in hopes of getting the frozen coupon payment sitting at BNY Mellon released as soon as possible.