Blackouts, trees and posts knocked down by gales in Ushuaia and Punta Arenas
Monday, August 11th 2014 - 07:46 UTC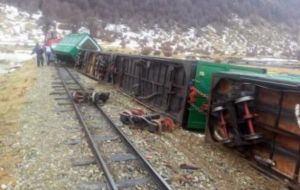 Hurricane strong winds on Saturday blew roofs, knocked down lamp posts and trees and left big areas of Ushuaia, Argentina and Puntas Arenas, Chile without power according to reports from both cities in the extreme south of the continent.
 In Ushuaia the winds blew at over 120 kilometers per hour and sucked glass windows from schools and gymnasiums and even turned on its side the famous tourist train 'end of the world'.
"It was an extraordinary climate phenomenon, which according to forecasts will be followed by heavy snow fall and dramatic drop in temperature" said Ushuaia mayor Federido Sciurano.
"We suffered gales over 120 kilometers per hour; we never had the implosion of glass windows in buildings or the train being knocked over by the wind" revealed the mayor.
In Punta Arenas according to local authorities the wind blew at over 134 kilometers per hour and left almost 80% of the city without power, (35.000 clients) because of dozens of posts knocked over which then forced the closing down of ten of the twelve electricity distribution stations.
The neighborhoods most affected by the winds were the Chabunco industrial park, including Punta Arenas airport and adjoining rural areas where sheds were literally pulled off the ground.
"This has being a particularly serious situation; we have all our vehicles and staff on the streets to help out but we still have hundreds without power", admitted Mario Sillard deputy head of the local power company on Sunday.
He added "I've been living several years here and I had never seen anything like this. We had several shifts on the phones to take the reports. Our fifteen vehicles and over forty of our people are still out working".
The situation was further complicated by a light snow fall, and with several homes having lost their roofs.
Authorities were deciding late Sunday whether to cancel schools on Monday to complete work, restore power and collect the thousands of cables (power, phones, cable TV) blown to the ground by the strong winds.