Brazil oil output at record 2.246m bpd in June: 6.9% higher over a year ago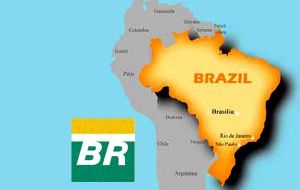 Brazilian oil output reached a record 2.246 million barrels per day (bpd) in June and exceeded the previous record of 2.231 million bpd in January 2012, the National Agency of Petroleum (ANP) reported. Output is up 2.6% from May 2014 and 6.9% June on June.
Natural gas output reached 88.6 million cubic meters (m³), up 2.4% from May's production of 84.5 million m³ per day, and up 8.2% June on June.
Overall, oil and natural gas output in Brazil reached 2.79 million barrels of oil equivalent per day (boe/d) in June, exceeding May's output of 2.721 million barrels.
Pre-salt output increased by 6.2% from May and reached 583,200 boe/d, with 478,000 barrels of oil and 16.7 million m³ of natural gas.
According to the ANP, the consumption of natural gas in the month reached 95.1%. The volume of burnt natural gas in June was around 4.3 million m³ per day, a decline of nearly 9.9% from May and an increase of 14.7% June on June.
Around 90% of the oil and natural gas output originated from oilfields operated by Petrobras.
Nearly 92.4% of the oil output and 73.5% of the natural gas output in Brazil originated from offshore fields. The Roncador field, in the Campos Basin, reported the largest output of oil, averaging at 256,200 bpd.
The largest producer of natural gas was the Mexilhão field, in the Santos Basin, which averaged at 6.6 million m³ per day.
ANP also reported that in June, 303 concessions, held by 24 companies, accounted for the Brazilian domestic production. Of those, 82 are offshore concessions and 221 are onshore ones.