Global economic recovery remains 'disappointing' says Fed's Vice Chairman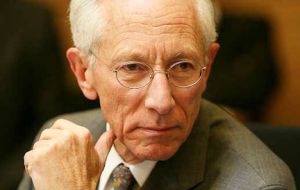 US Federal Reserve Board Vice Chairman Stanley Fischer said that the economic recovery has been and remains "disappointing" and made it clear that he expects monetary policy to continue to play a significant role in encouraging growth in the future.
Speaking on Monday in Stockholm, at an event sponsored by the Swedish Ministry of Finance, Fischer said the Fed's Quantitative Easing program, which the Fed is slowly winding down, was "largely successful." Under QE, the Central Bank worked to keep interest rates low by purchasing large amounts of government and mortgage-backed securities on the open market.
Fischer suggested that the program, along with the Fed's policy of delivering "forward guidance" about its thinking on future decisions, had helped the US economy work through the Great Recession without worse damage.
That said, he acknowledged that the path has not been smooth.
"With few exceptions, growth in the advanced economies has underperformed expectations of growth as economies exited from recession," Fischer said. "Year after year we have had to explain from mid-year on why the global growth rate has been lower than predicted as little as two quarters back."
Fischer nodded to the idea advanced by some, including former Treasury Secretary Larry Summers, that the U.S. might be trapped in a long-term, low-growth rut. "Indeed, the IMF's expectation for long-run global growth is now a full percentage point below what it was immediately before the Global Financial Crisis. This reconsideration reflects lower projected growth for both the advanced and the emerging market economies."
However, Fischer said he still holds out hope for growth returning to pre-crisis levels, possibly driven by new increases in productivity gains. "It is unwise to underestimate human ingenuity," he said.
"I for one continue to be amazed at the potential for improving the quality of the lives of most people in the world that the IT explosion has already revealed," he said. "Possibly, productivity could continue to rise in line with its long-term historical average. After all, as the experience of the 1990s shows, productivity cycles are extremely difficult to predict…."
Fischer also expressed optimism that, as the economy continues to improve, many US workers who left the labor force in the worst years of the Great Recession will begin to return.