Leading economies showing overall steady growth trend, says OECD
Monday, August 11th 2014 - 22:19 UTC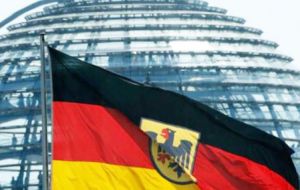 Leading economies are showing a steady growth trend overall, although Britain is doing particularly well and Japan and Germany are showing signs of losing pace, the OECD (Organization for Economic Cooperation and Development) said on Monday.
The Euro zone as a whole, and France, are on a stable growth path, the latest OECD data showed, contrasting with several recent indicators suggesting that France is lagging in the 18-member single-currency zone.
The OECD, grouping 34 advanced democracies, said that its index of leading indicators for "the United States and Canada also continue to point to stable growth momentum."
This was also the case for Britain, a member of the European Union but not of the Euro zone, "where growth momentum remains above-trend rates," the OECD's monthly index showed.
There were signs of a blip in Japanese growth, but this "probably reflects one-off factors," the OECD said.
The figures for Germany, the leading Euro zone country, suggested that growth was losing its vigor, whereas in Italy the data continues to indicate a positive growth momentum."
The OECD index is regarded as a reliable pointer to turning points in economic activity relative to trends.
The outlook for France and for Italy will be welcome in those two countries, in France because recent data has been discouraging and in Italy because the economy was shown last week to have slipped unexpectedly back into recession.
The president of the European Central Bank, Mario Draghi, warned last week that recover in the Euro zone would be "weak, fragile and uneven."
The OECD said that its index for big emerging economies, which are not among its members, showed that growth was running at about trend levels in China and Russia, below trend in Brazil, and was picking up pace in India.
Russia's state statistics service said on Monday that the economy had expanded by 0.8% in the second quarter of 2014.
The OECD data comes against a background of growing uncertainty for the Russian economy which is increasingly threatened by western trade sanctions over the conflict between Russia and Ukraine.