Three Finnish icebreakers for Russia's oil and gas operations in the Arctic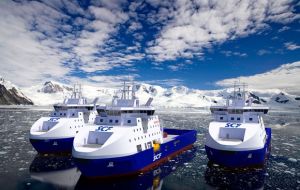 Finland-based Arctech Helsinki Shipyard has been contracted to build three icebreaking stand-by vessels for Russian shipping company Sovcomflot, for a total cost of 380 million dollars.
The vessels will perform operations in the north-east Sakhalin offshore region oil and gas field for Sakhalin Energy Investment Company (SEIC).
The icebreakers are capable of carrying out rescue operations and recovery of oil spills, while they can also be used for moving cargo for low flashpoint fuels.
While designing the vessels will start immediately, the company hopes to deliver them between September 2016 and March 2017.
The 95m-long and 22m-wide vessels will be based on Aker Arctic concept Aker ARC 121 and will be fitted with four diesel generator engines, to generate total power of about 20,000kW. They will have a propulsion power of 13,000kW.
Arctech and Sovcomflot signed a contract in April, which included a larger platform supply vessel under the icebreaking vessels series, which would function efficiently in extreme weather conditions.
Arctech Helsinki Shipyard managing director Esko Mustamäki said: "We are extremely satisfied to receive an order of three arctic offshore vessels from Sovcomflot.
"This remarkable order of three vessels brings a lot of work to our shipyard and to the whole maritime cluster. We will also strengthen our organization considerably."
The vessels will be used in ice management and ice breaking in extremely low temperatures of up to -35C°.
Equipped to navigate in 1.5m-thick ice, the vessels will be fit for emergency evacuation, firefighting operations and helicopter operations, as well as for diving support as they will comprise a moon pool.