Argentina: US dollar reaches a new record of 13.15 Pesos in Buenos Aires 'blue' market
Thursday, August 14th 2014 - 06:11 UTC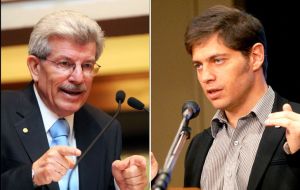 The US dollars climbed to a record 13.15 Pesos on the black or 'blue' market on Wednesday trading as fears mount regarding the outcome of the holdout bonds conflict with the New York court. The official dollar rate closed at 8.2750 Pesos.
Tough capital controls on foreign exchange and lack of trust in government policies has traditionally meant that most Argentines buy dollars as a refuge. The 13.15 Pesos rate is the highest since last 23 January.
Investors, savers and banks are concerned about events and the possibility that the current president of the Central bank, Carlos Fabrega who has an orthodox approach to monetary policy might be on his way out.
Economy minister Axel Kicillof, currently the most influential person in financial issues surrounding president Cristina Fernandez wants interest rates down to boost consumption, but Fabregas fearing inflation and trying to capture the few dollars in the market opposes the approach. However this week interest rates were lowered.
Meanwhile the stock exchange dollar, which involves trading greenbacks through companies that operate both in Buenos Aires and New York, or sale of bonds in foreign currency, also climbed and closed on Wednesday at 12.50 Pesos, 40 cents higher than on Tuesday.
Thus the gap between the official rate for the US dollar of 8.29 Pesos and the blue market, has expanded to 58.6%, and with prospects of further climbs as the Argentine government digs in regarding the conflict with the holdouts.
The Argentine government is only prepared to pay holdouts the value of the swapped bonds plus interest, however they are demanding full face value plus accrued interests, a difference of over a billion dollars.
News on Wednesday that alleged negotiations from private bankers and/or investors to purchase holdout credits and thus give Argentina breathing space until January 2015 have fallen through, most probably will see the greenback increase its Pesos value as Argentines flock to ensure the value of their savings.
Likewise the decision to lower interest rates, will only aggravate the situation according to money market operators as savers will dump their Pesos.
With uncertainty prevailing even farmers are reluctant to sell their crops preferring to keep grains and oilseeds until the financial weather settles. This was clearly reflected in the Central bank purchases of dollars that fell dramatically to 30 million dollars on Wednesday with a net result for the bank of 5 million dollars.
Argentina's international reserves stand at 28.9 billion dollars considered dangerously tight for the many import and debt payment commitments.