All ready in Uruguay to receive Guantanamo prisoners, but public opinion is divided
Saturday, August 16th 2014 - 11:21 UTC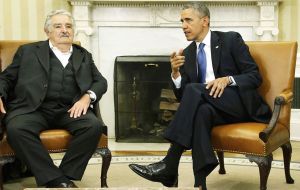 Uruguay will be receiving very soon six men who have spent more than a decade locked up without charge at the US base at Guantánamo Bay in Cuba. The prisoners have been offered a refuge in Uruguay, where President José Mujica agreed as a humanitarian gesture to accept men that the U.S. has decided do not pose a threat but cannot return to their homelands.

However Uruguay remains divided over the pending arrival.

U.S. officials, who in the past have avoided disclosing the release of prisoners in advance, have not said when the men may arrive, nor even publicly confirmed that they are coming. In July, the Pentagon gave Congress a legally required notice of at least 30 days that it intended to send the men to Uruguay, suggesting the transfer may be imminent.

Mujica anticipated that the six men from Guantánamo will be free to move about once they make it to Uruguay, and he repeated his welcome in recent remarks.

"With the exception of the dictatorship, Uruguay has been a country of refuge and for us it's a matter of principle," the president said on his weekly radio show. He added Uruguayan businesses have already offered to find work for the men.

But that enthusiasm is not entirely shared. The weekly magazine Busqueda reported the results of a July survey that said half the country opposed offering asylum to the men, while 30% supported it and 20% had no opinion.

The six prisoners: four Syrians, one Palestinian and one Tunisian, have been held at Guantánamo since 2002, when the U.S. government began using the base to detain men suspected of terrorism or links to al-Qaida and the Taliban. President Barack Obama came into office pledging to close the detention center, but the U.S. Congress barred the transfer of any prisoners to U.S. soil and added new legal requirements before they could be sent abroad.

About 600 prisoners have been released under both Obama and his predecessor, George W. Bush, most of them sent to their home countries. But dozens of the 149 who remain cannot be sent back because they are likely to face harm or persecution at home or because the U.S. does not consider the security situation stable enough.

Finding countries to accept men from Guantánamo has been a struggle. The U.S. has scattered a group of ethnic Uighur prisoners from western China around the globe, to places that include El Salvador, Albania, Bermuda and the Pacific island of Palau. Some have since moved on as they seek to rebuild their lives.