Falklands pricing for valuation of hydrocarbons will follow Norwegian model
Tuesday, August 19th 2014 - 09:16 UTC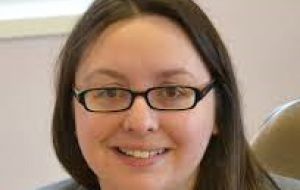 The Falkland Islands has an oil legislation regime that is robust and encourages investment, believes Financial Secretary Nicola Granger. Details of a law firm's report to the Falkland Islands Government (FIG) on tax legislation in relation to the oil and gas industry, and recommendations to Government by Ms Granger, were released to the public this week in a paper that outlines the report from Freshfields Bruckhaus Deringer LLP.
As FIG readies itself for income from oil, at the July 16 ExCo lawmakers (Members of the Legislative Assembly) MLAs approved the recommendations for legislative drafting, including setting up a pricing panel for the valuation of hydrocarbons in line with a Norwegian model.
The panel will be chaired by the Financial Secretary or her nominated representative and the exact makeup of the panel will be developed over coming months as Government undertakes consultations with the oil industry representatives, the Norwegian Ministry of Petroleum & Energy and the Falklands' Government's Oil Adviser Anne Drinkwater.
The panel will be tasked with setting a price for tax purposes of all sales.
In essence this is intended to ensure that a valuation is established for petroleum sales that ensures a fair outcome for both the Government and for the oil company.
Government has long established that it will charge a 9% royalty on oil per barrel, and corporation tax currently stands at 26%.
The paper also lays out recommendations made by Freshfields in relation to Government relieving leasing costs undertaken by the industry, but with some rules and caps in place, for example there would be a cap on the cost of an oil company leasing very large value assets.
The firm also gave advice on legislation dealing with finance costs and drilling costs.
With regard to the latter, FIG is to adopt the US definition of 'intangible drilling costs' approach which may result in first corporation tax receipts being delayed by a year or lower than expected in that year but higher the following year.
FIG rejected the UK approach which involves corporation tax receipts being depressed over the period of the first five years, with the impact decreasing with each subsequent year.
Freshfields considered the US approach was simpler and state in the report, "we would expect that it would be viewed reasonably favorably by licensees."
On the subject of licence swaps Freshfields state that current legislation is robust. The company also made a number of recommendations in a few other areas including, "increased use of published guidance."
Speaking to Penguin News this week Ms Granger explained: "This report provides the clarification that the industry requested in some specific areas of our tax legislation relating to hydrocarbons.
"We've recently sought comment from FIPLA (Falkland Islands Petroleum Licensee's Association) regarding the makeup of the valuations panel and intangible costs following this report and are currently getting quotes to appoint a specialist legislative drafter.
"The Exco paper outlines a couple of areas where further clarification is needed but the Falkland Islands Government believe that the legislation amendments outlined in this paper will ensure a robust regime that encourages investment." (Penguin News).-