UN accepts extension of Uruguay's continental shelf to 350 miles; first in South America
Wednesday, August 20th 2014 - 00:15 UTC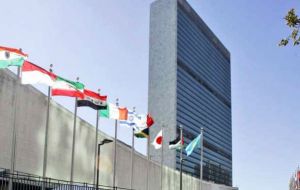 The United Nations accepted the proposition of the Uruguayan government to extend the Uruguayan territorial seabed from 200 to 350 miles. Uruguay thus becomes the first South American nation to receive the approval of the UN for such request.
The Convention on the Law of the Sea of the United Nations upheld the Uruguayan request, which involves the addition of 80,500 square kilometers in the Atlantic ocean where the country will have exclusive rights on marine reserves and living resources attached to the continental shelf but not those resources living in the water column beyond the 200 miles Exclusive Economic Zone.
It is expected that the ruling in favor of Uruguay, which currently has a recommendatory character, will be in force from February 2015, according to Uruguayan government sources.
The new area is equivalent to almost 50% of the country's land mass.
The Uruguayan government with help from Canada, Italy, UK and other countries collected for years technical and scientific information that helped prove among other things, that its continental shelf extends effectively beyond the 200 miles.
Under the Law of the Sea, the continental shelf is defined as the natural prolongation of the land territory to the continental margin's outer edge, or 200 nautical miles from the coastal state's baseline, whichever is greater.
A state's continental shelf may exceed 200 nautical miles until the natural prolongation ends. However, it may never exceed 350 nautical miles from the baseline; or it may never exceed 100 nautical miles beyond the 2,500 meter isobath (the line connecting the depth of 2,500 meters).
Coastal states have the right to harvest mineral and non-living material in the subsoil of its continental shelf, to the exclusion of others. Coastal states also have exclusive control over living resources "attached" to the continental shelf, but not to creatures living in the water column beyond the exclusive economic zone.