Argentina suspends beef exports 15-days to contain domestic prices
Friday, August 22nd 2014 - 08:04 UTC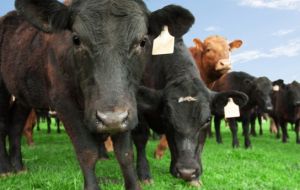 The Argentine government has decided to restrict beef exports for a 15-day period seeking to stem the rise of prices in the domestic market. The decision was confirmed by Cabinet Chief Jorge Capitanich and sparked criticism by business leaders in the sector with some voices saying the strategy will have "no positive effects."
The Domestic Trade office run by Augusto Costa will reduce permits authorizations for beef shipments. Over the past two weeks, cattle prices have jumped 10-15%, an increase likely to reach consumers as well.
According to Capitanich, the government is conducting talks with the sector's leaders "to set mechanisms that allow to agree on measures that allow to create conditions to control the flow of exports and the domestic market supply" in order to avoid an increase of prices.
"That is what the State efficiently pretends to intervene (in) to guarantee the supply in sustainable conditions and convenient prices," Capitanich said Thursday morning in his daily briefing to the press at the government house, adding beef prices have climbed 54% since the beginning of the year, a hike that "has no relation with costs' structure."
"The rise responds to speculation fueled constantly by media, economists and opposition representatives that have devaluation perspectives and a destabilizing interest that led to the retention in the cattle market", argued Capitanich. He added there is also "speculation resulting from the increase of exports with the European Union toll and trade perspectives with the Russian Federation."
Echoing the news, head of the CICCRA Argentine beef trade chamber Miguel Schiariti criticized the government's decision saying "it will be insignificant and will have no positive effect."
The measure, Schiaritti told reporters, represents the "same ineffectiveness and ignorance over the (beef) sector" that ex Domestic Trade Secretary Guillermo Moreno had, widely questioned by the opposition and private-sector figures. Moreno was replaced in his post in December last year by Augusto Costa, a close aide of Economy Minister Axel Kicillof.
The CICCRA chairman explained the rise in cattle prices follows a restriction in the supply due to roads' "bad conditions."
"This is no way to fix the situation; it is rather the repeat of the policies that led us to lose 10 million of cattle heads, to having 135 abattoirs closed and losing 16,000 jobs," Schiariti said calling for "rationality" as he said "stopping the trade of 6% of what it is produced abroad can have no effect on the remaining 94%."