European holders of swapped Argentine bonds willing to accept removal of the RUFO clause
Friday, August 22nd 2014 - 07:33 UTC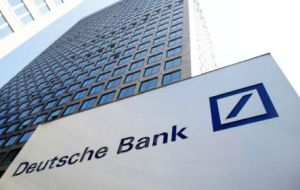 European investors holding 5.2 billion dollars of restructured Argentine bonds are negotiating the removal of the Rights Upon Future Options (RUFO) clause that Argentina claims prevents them from negotiating with holdout funds, it was reported in the Buenos Aires media.
If an agreement is eventually reached, it would represent a major breakthrough following President Cristina Fernández refusal to pay holdouts that did not accept the two debt swap alternatives offered in 2005 and 2010.
The Argentine government argues it can't propose a better option to so called 'vulture funds', due the RUFO clause which prevents giving more benefits to bondholders who did not take part in the previous debt swap processes.
Latham & Watkins attorney, Christopher Clark, who counsels bondholders, said they are working on a request to eliminate the RUFO clause.
"We are working with Deutsche Bank to make progress as fast as we can during negotiations," he affirmed.
In related news Cabinet Chief Jorge Capitanich reiterated on Thursday that the bill pushed by the Executive "is not about a change of jurisdiction but of venue" and pledged that bondholders who voluntary accept the new swap will have "clear, certain" chances to receive payment.
"The swap offer to the 7.7% of holdout bondholders entails the same conditions as restructured have," the chief of ministers said in his daily press briefing at government house. Capitanich pointed out that by accepting the new swap bondholders would have a 300% gain.
The official also reiterated Economy Minister Axel Kicillof's remarks saying the new swap "is not a change of jurisdiction, it is a change of venue and it is voluntary."
"Bondholders who accept (the swap) will have gain, and clear, certain recovery chances," the official added.