Former Colombian president becomes Unasur new secretary general
Wednesday, August 27th 2014 - 06:24 UTC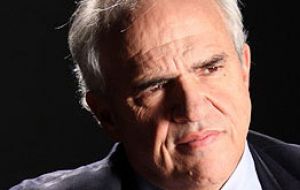 Former Colombian president Ernesto Samper was confirmed as Unasur Secretary General following a consultation of the group's member countries presidents. The announcement had been delayed because a Union of South American Nations summit to be held in Montevideo this month was suspended.
The announcement was made in Unasur's portal indicating that Samper will begin activities immediately. The release was signed by the current pro tempore chair of Unasur, Uruguay, adding that it is a two year post.
Uruguayan president Jose Mujica was disappointed that the Unasur summit had to be suspended because several regional leaders could not make it to Montevideo this month, so he had a round of consultations to confirm Samper who had already been anticipated with the needed consensus.

Ecuadorean foreign minister Ricardo Patiño later twitted that Samper's nomination had been confirmed by consensus of all Unasur members presidents. The capital of Ecuador, Quito, is the official Unasur seat.
Samper was Colombian president from 1994 to 1998 and previously was senator (1986/1990) and ambassador in Spain, (1991/1993). In 1989 while a senator he was seriously injured during an attack in which another Colombian leader, Jose Antequera was killed.
The attack occurred at the Bogotá airport and Samper received ten shots, however after weeks of critical condition was able to be back on his feet and four years later became president.
Samper has anticipated, besides full support for democracy, three main guidelines during his two year tenure. One social "reducing the levels of inequality" in the region; an economic agenda since the region is much behind in science and technology and finally "increasing security in the streets of the continent".
Last week Samper visited Quito and met president Rafael Correa to exchange ideas and make a tour of the new Unasur headquarters under construction and which will be named after former Argentine president Nestor Kirchner, the first secretary general of the group. The building should be delivered before the end of the year, meanwhile Samper's office will be in downtown Quito.
"I'm delighted to move to Quito and hopefully next month (September) I will be full time" in the Ecuadorean capital said Samper. He replaces Ali Rodriguez from Venezuela whose time had been up for several months.
Unasur was created in 2008, the brainchild of Brazilian diplomacy with the purpose of countering the influence of the US through the Organization of American States. Its purposes are the integration of its members in issues such as energy, education, healthcare, environment, infrastructure, security and democracy. The twelve members are Argentina, Bolivia, Brazil, Colombia, Chile, Ecuador, Guyana, Paraguay, Peru, Surinam, Uruguay and Venezuela.