Dollar new record in Argentina: 14.45 Pesos; Capitanich blames 'speculative attacks'
Thursday, August 28th 2014 - 06:11 UTC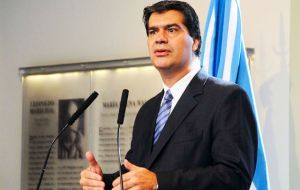 While Argentine Cabinet Chief Jorge Capitanich claimed the country was suffering "speculative attacks" to systematically erode the "government's credibility and trust" the US dollar in the Buenos Aires informal market continued to climb and ended Wednesday trading 25 cents higher at 14.45 Pesos.
Likewise the Buenos Aires stock market and bonds also climbed on Wednesday as investors seek to gain dollars in the short term. The Merval index closed up 3.04% to 9,811.97 points. Banks and energy firms reported the biggest gains.
Among public titles, the Bonar 2017 was up by 1.9%; the Discount 3%, the Par was up by 5.4%, while the Boden 2015 jumped by 3.3%. GDP-linked coupons also climbed, increasing their value by to 4.1%.
Meanwhile the blue-chip swap rate advanced to 12.97 pesos, hitting a record mark as well, while the stock exchange rate closed at 13.16 pesos.
With today's increase, the gap between the official rate and the so-called "blue" dollar is at 71% and continues to deepen. Since the beginning of the year the Argentine Peso has lost 44% of its value against the greenback.
However the US dollar traded unchanged at 8.42 pesos in Buenos Aires City banks and foreign exchange offices, as the Central Bank kept a close eye on the market.
Total transactions reached 173 million dollars, while the Central Bank finished the day with a 40 million buy. Dollar offer generated by exporters was enough to keep the official rate steady.
On Monday, the Argentine government had raised the interest rates in a move to redirect investors towards the peso. But the strategy failed as they rushed to the informal market.
Reacting to the volatile market and growing distrust of investors and savers, Cabinet Chief Capitanich accused 'vulture funds' of carrying out "speculative attacks against the (Peso) currency" to "systematically erode the government's credibility and trust."
The chief of ministers pointed out that 'vulture funds' act through "powerful international lobbies" and local "opposition leaders, unions and concentrated media groups" to carry out "insidious attacks" against President Cristina Fernandez and her government.
He added that vulture funds also act through financial groups and said that "Argentina has suffered a very clear speculative attack in the first months of the year (…) and is suffering a continuous speculative attack through the 'blue' dollar."