Malaysia Petronas joins YPF to develop shale-oil reserves in Argentina
Friday, August 29th 2014 - 07:32 UTC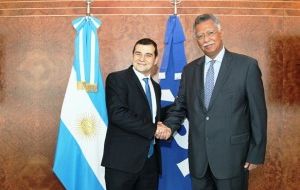 Argentine government controlled energy company YPF said on Thursday it signed a 550 million dollars agreement with Malaysia's Petronas to develop shale-oil reserves in the massive Vaca Muerta formation.
In a ceremony in Kuala Lumpur, Petronas CEO Tan Sri Dato' Shamsul Azhar Abbas and YPF counterpart Miguel Galuccio signed the accord setting forth the terms and conditions for a joint project in the western Argentine province of Neuquen.
The project at the La Amarga Chica oil field is to consist of three phrases and involve an initial joint investment of 550 million, of which state-owned Petronas will contribute 457 million.
More than 30 wells will be drilled in the pilot stage, which is scheduled for the first quarter of 2015, YPF said in a statement.
"YPF will be the operator of the block and will cede a 50% stake" to Petronas, it added.
Depending on the results of the pilot stage, the companies foresee continuing the project with an investment outlay exceeding one billion dollars over the first five years.
The companies also are considering extending their strategic partnership to other exploratory areas with non-conventional oil and gas potential.
Shale oil, which was difficult to extract just a few years ago, is produced by using hydraulic fracturing, or "fracking."
Fracking is controversial and involves pumping a pressurized fluid, usually composed of water, sand and chemicals - into the shale formation to create a fracture in the rock layer and release trapped petroleum or natural gas.
In keeping with YPF's strategic plan and considering its initial success in developing Vaca Muerta's Loma Campana area - in a joint venture with Chevron - "we think it's an enormous opportunity for YPF and for the country to bring Petronas on board as a strategic partner," Galuccio said after signing the agreement.
Petronas' CEO, for his part, said the company was pleased to participate in shale-oil development through the partnership with YPF in La Amarga Chica.
"We see Neuquen as a very prolific area, with great growth potential that will surely benefit Argentina enormously