Brazil in recession; Minister Mantega blames external factors and World Cup
Saturday, August 30th 2014 - 10:53 UTC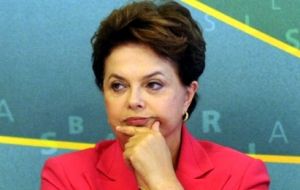 Brazil has fallen into recession, further weakening President Dilma Rousseff, just weeks before voting in what will be a tough re-election battle. Brazil's national statistics institute said Friday GDP shrank 0.6% in the second quarter and revised an initially positive first quarter growth estimate down to -0.2 percent.
Coming ahead of October presidential and general elections, the figures will damage already low industrial and consumer confidence in what once was a fast-growing regional powerhouse.
The contraction comes with Rousseff fighting to win re-election, as the latest polls show a major surge in support for ecologist Marina Silva. A former environment minister under Rousseff's predecessor Lula da Silva, Marina shot to prominence after Socialist candidate Eduardo Campos died a plane crash on August 13.
She had been Campos' running mate and took the reins of his campaign.
Minister of Finance Guido Mantega insisted external factors were largely behind the poor statistics and forecast a swift return to growth. "Things have not improved on the international front and that is not helping most countries" Mantega said in Sao Paulo.
"This result was below expectations (but) I believe we should not be talking of recession ... salaries are on the up and the consumer market is expanding," he said.
Analysts have in part blamed the poor second quarter showing on the public holidays which the government granted during the month-long World Cup football extravaganza.
Citizens enjoyed an afternoon off on Brazilian match days and host cities also enjoyed a holiday every time they hosted a game, dampening economic activity.
With most eyes on the football for five weeks, industrial activity dipped 1.5% in April-June, the IGBE national statistics agency figures show.
As Brazil ponders a potential poll win for Silva, second quarter investment fell 5.3%.
The Rousseff administration has cut growth forecasts for the year to 1.8%, blaming the global crisis. Market forecasts for 2014 are for GDP to rise just 0.7%, for a fourth straight year of sluggish growth after shooting ahead 7.5% in 2010.