Falklands/Malvinas issue to be addressed by Mercosur parliament 11 November
Tuesday, September 2nd 2014 - 07:43 UTC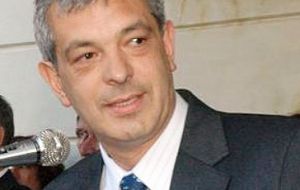 The Mercosur Parliament, Parlasur will be holding a special session next 11 November in Montevideo dedicated to the Falklands/Malvinas Islands sovereignty issue, it was announced this Monday in Buenos Aires during a visit of a delegation from the regional legislative to the Argentine congress.
The meeting was attended by lawmakers from the five full member countries, Argentina, Brazil, Paraguay, Uruguay and Venezuela, plus the Argentine representative before Mercosur Juan Manuel Abal Medina and the president of Parlasur, Uruguay's Ruben Martinez Huelmo and the president of the visiting delegation, Senator Jose Mayans.
Other issues in the agenda addressed during the meeting in Buenos Aires included the list of Parlasur sessions for the rest of the year. Parlasur usually meets in Montevideo, either at the Parliament building or at the Mercosur headquarters.
"We must underline the overwhelming and solid support from Parlasur in issues so vital for Argentina such as the 'vulture funds' dispute and the Malvinas sovereignty", said Abal de Medina in reference to the official releases from the five-countries legislative.
"The regional legislative and Aladi (Latam integration association) released strong worded statements not only condemning the 'vulture funds', but also giving evidence of a great support for Argentina in its ongoing struggle", added the Argentine representative.
The Parlasur delegation, headed by its president Martinez Huelmo, was received by the president of the Lower House, Julian Dominguez and by the chairman of the Foreign affairs committee, deputy Guillermo Carmona and former Senator Daniel Filmus who now heads the Foreign Affairs desk which looks after issues related to the Malvinas Islands.
"We are strong believers of integration so that is why this issue of the 'vulture funds' and the Malvinas sovereignty are standing issues for the Mercosur Parliament", said Martinez Huelmo who added "they are not only Argentine issues, they are of all Latin America"
"There is a redefinition of the role of States when in the process of integration they are faced with challenges from speculative funds", pointed out lawmaker Dominguez