Spain's Iberia returns to Carrasco with 2.300 seats a week on the Montevideo-Madrid route
Tuesday, September 2nd 2014 - 06:34 UTC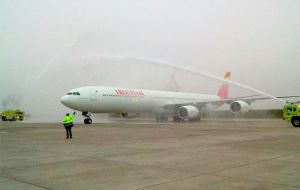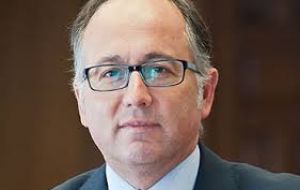 Spain's flag carrier Iberia made its return to Uruguay on Monday after being out of the South American country's market for 18 months, marking the resumption of a route that will offer up to 2,300 seats to travelers on a weekly basis. Iberia, a unit of IAG, will be providing service on the Madrid-Montevideo and Montevideo-Madrid route with four weekly flights.
The Iberia jet landed on time at 7:15 a.m. at Montevideo's Carrasco International Airport after a 13-hour non-stop flight that covered 10,000 kilometers. Iberia president Luis Gallego was on the flight and said on arrival that the carrier was returning "with more strength" and "more of a commitment than ever to Uruguay."
The carrier will connect Uruguay to 70 destinations in Europe, Africa and the Middle East with flights from Madrid's Adolfo Suarez-Barajas Airport, Gallego said.
"With this route, we are bolstering our leadership between Europe and Latin America, which is our most important market and where we have focused the new Iberia's business strategy," Gallego said.
Iberia offers 200 weekly direct flights to 16 Latin American countries, the executive said.
The carrier will offer Montevideo-Madrid flights on Mondays, Tuesdays, Thursdays and Saturdays, while Madrid-Montevideo flights will be offered on Mondays, Wednesdays, Fridays and Sundays.
Iberia plans to use Airbus A340s on the route, Gallego said, adding that the carrier recently acquired eight next-generation Airbus 350s and eight Airbus 330-200s for use on long-haul flights.
Uruguay has improved its air links to Europe in recent months with Iberia's return and the flights to Madrid out of Montevideo offered by Air Europa, which entered the market in 2013, Public Works and Transport Minister Enrique Pintado said.
"Our connectivity with Europe has not just recovered to the level before the crisis, but we are now better connected and in a bigger way. In particular with Spain, which is who we have had very close and strong links with for centuries," Pintado said.
Iberia started flying the Spain-Uruguay route on Sept. 22, 1946, but the carrier stopped serving Montevideo on April 1, 2013, even though its planes were always full. The cancellation of the route was blamed on problems associated with Iberia's integration into IAG.
Air Europa stepped in and began offering service between Spain and Uruguay in response to a request from the Uruguayan government and business community.
The Spanish carrier, a unit of Globalia, cut a deal with the Uruguayan government to obtain jet fuel on favorable terms from state-owned oil company ANCAP. The agreement, which costs the Uruguayan Treasury about 9 million dollars annually, has been extended to Iberia.
The Spanish airlines will save 8% on their fuel costs on the non-stop flights between Uruguay and Spain.