Belize supports Uruguay's Almagro for OAS Secretary General next year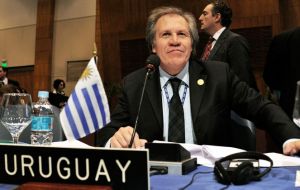 Belize says it will support Uruguay for the position of secretary general of the Organization of American States (OAS) and downplayed any suggestion that its non-support for the Guatemalan candidate was linked to the ongoing territorial dispute between the two countries.
Prime Minister Dean Barrow speaking on television said Uruguay's Luis Almagro "is ahead of the game" as regards the campaign for its candidate.
But Barrow indicated should the Guatemalan candidate be victorious, there is the hope he "would act professionally as secretary general "one hopes he able to act professionally as secretary general of the OAS.
"He doesn't become Guatemala's secretary general of the OAS, he is a Guatemalan national if he wins that will become the secretary general of the OAS. We have to be careful because remember we have fielded a candidate for the deputy secretary generalship," Barrow added.
Belize has nominated its ambassador to the OAS, Nestor Mendez, to replace Albert Ramdin, the Surinamese national, who has been in the post since 2005.
Belize and Guatemala have a long standing territorial dispute dating from 1940 when Guatemala claimed control of all of the Caribbean Community (CARICOM) country.
CARICOM leaders have repeatedly "reaffirmed their unequivocal support for the territorial integrity and sovereignty of Belize" and last year, the Belmopan said Guatemala appeared to be having difficulty with proceeding with the referendum in both countries on October 6 this year to deal with the dispute.
Belize said Guatemala wanted to go straight to the International Court of Justice (ICJ). It also did not want to put an end to the existing Special Agreement between them.
In June, Foreign Minister Wilfred Elrington told the Caribbean Media Corporation (CMC) that the two countries have now entered "into a road map for confidence building measures in the hope that we can set a new date very soon for doing the referendum".
Prime Minister Barrow said that Belize has asked for and receive the support of the Central America Integration System (SICA) for Ambassador Mendez in the campaign for the OAS assistant secretary general position.
"Yes at the last SICA meeting, we were asked whether in turn we can support Guatemala's candidacy for the number one sport and I was obliged to say quite candidly that events have already overturned that because we had made a deal with Uruguay to support their candidate and in turn they would support our candidate.
My colleagues the Central American heads asked if I could give some thought to the possibility of changing our position and I indicated that I am a man of honor and I am a man of my word and so that there would be extremely difficult," Barrow said, indicating that his country would not go out and campaign against Guatemala.
"I can tell you we won't but we are busily working to secure our own candidacy and to support the Uruguayan candidate Luis Almagro since we have this arrangement," he added.
Chile and Brazil have already confirmed in letters to the Uruguayan government their support for Almagro as next OAS Secretary General. Apparently, according to media reports, so have Canada and the US but this has yet to be confirmed officially.