China exports up 9.4% in August over a year ago, but imports were down 2.4%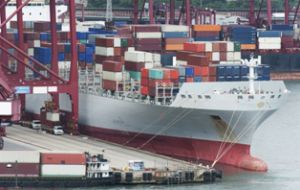 China's latest export numbers rose by 9.4% in August from a year earlier, beating forecasts of about 8% growth. The official data showed imports dropped by 2.4% from the year before, though, which left the country with a record surplus of 49.8bn dollars.
The unexpected dip in imports was seen by economists as a sign of ongoing weak domestic demand on the mainland. There was particular weakness seen in corporate investment and real estate for the period. And while the rise in exports was more than expected, it compares with a rise of 14.5% in July.
China's government has been trying to boost domestic demand while economic growth in the world's second-largest economy slows down. But it's been struggling this year, with growth slowing to 7.4% between January and March, an 18-month low.
The mainland's economy recovered slightly in the three months to June to expand by 7.5%.
Some economists pointed to the latest export data from China as a sign the global economy was recovering. Others said the numbers were surprising and that the record trade surplus would not sit well internationally.
"The strength in exports was quite broad based," said Louis Kuijs, an economist with RBS in Hong Kong.
"I was a bit surprised because we don't get the impression that global trade is doing fantastically - global trade is improving but not growing at 9%."
He said he was "favorably impressed" by the latest export figures, but skeptical about how long the growth in exports could stay this strong.
Mr Kuijs also said the strong exports, together with the record surplus, would put pressure on China's government to let the country's currency, the Yuan, rise "in some way or other".