Uruguay opens second pulp mill with annual production capacity of 1.45 million tons
Tuesday, September 9th 2014 - 04:46 UTC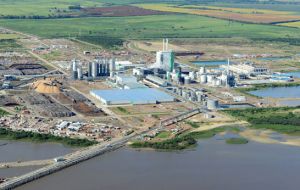 Uruguay officially inaugurated on Monday a second pulp mill, Montes del Plata, on the River Plate, belonging to Chile's Arauco and Swedish-Finnish Stora Enso, which is considered the largest single investment in the country and will have an annual production of 1.3 million tons.
Located in Punta Pereira, Colonia county, and fifty kilometers across the River Plate from Buenos Aires, the plant with a 1.45 million tons capacity demanded an investment of 2.270bn dollars and is expected to have an annual contribution of 850 million dollars to the country's GDP.
The complex which includes a jetty for loading ocean vessels, was operational since last June, but was waiting for some environment formalities and authorization for port activities. The construction employed 6.000 workers with many tradesmen from overseas and is expected to generate 5.000 indirect jobs now finished.
Mujica with most of the cabinet, local officials, Montes del Plata top executives and workers and unions involved in the several years construction were present at the opening ceremony.
Montes del Plata General Manager Luis Maria Rodriguez revealed that the mill has already completed its first export, last July, 21.000 of pulp to Asia.
"This is the final link which connects the plant with a value chain that involves over 5.000 people working in different parts of Uruguay", said Rodriguez who pointed out that the plant also has an electricity generating unit, which works on the biomass and ensures sufficient energy for the whole complex, plus a sale of surplus to the national grid.
President Mujica said that the pulp mills and Uruguay marriage does not end with Montes del Plata because there is ample space in the industry and sufficient forests in the country to feed similar plants.
The Uruguayan president had previously announced that next Sunday he will be travelling to Finland where he will try to convince Stora Enso, and UPM, which runs the other pulp mill on the River Uruguay, to invest in a third plant to the northeast of the country next to a fluvial area with abundant water and trees.

Mujica in his speech also referred to environment policies and said "ecology is not about condemning oneself to the photograph of an age, but understanding that the most important law of nature is change and man can help administer that".
"This is the largest single investment in Uruguay's history", he insisted adding that "humanity recovers the disasters it creates, that is why it thinks in those who rebuild, think, dream and make long-term sacrifices for the future."
The other pulp mill Botnia-UPM located on the River Uruguay has caused serious disputes with neighboring Argentina over its alleged environmental impact, and the case even reached the International Court of Justice in The Hague.
So far there has been no reaction or statement from the Argentine government (positive or negative) regarding Montes del Plata.