Argentina plays the China card to bolster reserves: 800m pledged in first tranche
Wednesday, September 10th 2014 - 06:59 UTC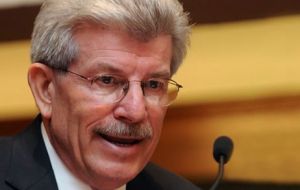 The Argentine Central Bank foreign reserves would be bolstered this year with up to 800 million dollars in Yuans transferred by China due to the first tranche of the money of the swap agreement signed between both countries, according to banking sources in Buenos Aires.
"There will be a payment before the end of the year. It will be between 700 million and 800 million dollars," a source told Reuters yesterday.
Under the terms of the currency swap deal, Argentina can send pesos in exchange for Yuan and the loan would be payable in 12 months with an interest rate of between six to seven percent. Any Yuan that the Central Bank gets from China could be freely converted to US dollars in Hong Kong, London or Singapore before arriving in Buenos Aires, thus allowing the money to build up Argentina's monetary base.
Argentine central bank reserves rose 3 million on Monday after purchasing 20 million. Last week, reserves dropped 209 million due to large energy import payments and dollars sold to maintain the US currency stable. So far this year, the Argentine bank reserves have declined 7.2%, or 2.207bn from the 30.599bn on January 1.
The head of the Argentine Central Bank Juan Carlos Fabrega met on Sunday with his Chinese counterpart, Zhou Xiaochuan, in Basel, Switzerland, to work out the details of the swap and the mechanisms to activate it as soon as possible. From Switzerland he flew to Beijing to complete the details of the transaction.
The currency swap agreement was a cornerstone of a string of deals President Cristina Fernandez sealed with her Chinese counterpart Xi Jinping in Buenos Aires in July.
Now the Central Bank is trying to accelerate its implementation at a time of strong foreign exchange pressures amid the sharpest devaluation of the peso since January.
Argentina and China agreed on a loan for 4.7 billion from the China Development Bank for the construction of two hydroelectric dams in Santa Cruz. China Gezhouba Group Corporation and Argentina's Electroingeniería won contracts last year to build the two dams, which will have a combined generating capacity of 1,740 megawatts. The Chinese bank also granted a 2.1 billion loan to help finance a long-delayed railway project that would make it more efficient to transport grains from Argentina's agricultural plains to its ports.