Paraguay argues that soccer was first played by Guarani tribes, according to Jesuit reports
Wednesday, September 10th 2014 - 04:29 UTC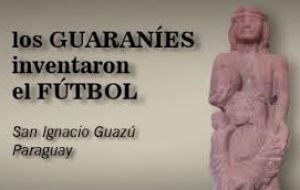 The Guarani tribes that lived in South America in the 17th century used to play a sport similar to soccer when the Jesuits arrived to establish their missions, claims a video based on historical documents released by Paraguay's Secretary for Culture. Entitled "The Guaranies invented soccer," the video collects findings made by anthropologists who studied the Jesuits' legacy in the country.
Jesuit chroniclers from the 17th, 18th Century wrote about a ball game played on foot called "mangai". The ball was manufactured with the honey-like resin of a tree known as Mangaisi.
"The Guaranis made a vertical incision on the tree cortex to extract the thick and sticky liquid," the head of the San Ignacio Museum Julio Galeano explained.
Father Bartomeu Melia, a Jesuit who studied the Guaraní history explained that they made the ball out of a ball of moist sand thickened with several layers of the resin. Historian Jorge Rubbiani added that natives in the Amazonas area also used that tree to manufacture a ball.
"The ball bounced and players were very skilled to control it or dribble in order to give spectators a good show," Spanish Father Antonio Betancort said in turn.
"There were no goals. The team that forfeited out of exhaustion was the loser," he added.
The Guaraní ethnic group inhabited what is today much of Paraguay, north Argentina, south Brazil, and the Guarani language is still used in those areas.
Furthermore Paraguayan politicians who do not dominate the tupi-guarani are conditioned in their chances of reaching office when campaigning in rural areas.
The origin of modern soccer is commonly attributed to England in the 17th Century but reports show that similar games were played by the Aztecs in Central America and the Incas in modern Peru while some say the sport's history goes back to ancient Greece and Egypt.
See Soccer first played by the Guarani (Paraguay) according to the Vatican