UN assembly sides with Argentina votes to change sovereign debt restructuring
Wednesday, September 10th 2014 - 06:09 UTC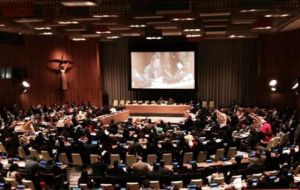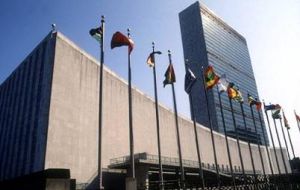 The United Nations General Assembly voted overwhelmingly on Tuesday in favor of a legal framework that would help regulate restructuring of foreign sovereign debt, a project that was suggested by the Argentine government and presented before the assembly by the Group of 77 plus China.
The final tally was 124 countries favor of the proposal, with just 11 registering their opposition and 41 abstentions. The nations that did not support the framework were the United States, the UK, Israel, Germany, Czech Republic, Canada, Australia, Japan, Finland, Ireland and Hungary.
The initiative had been proposed by the G77 plus China group of UN member countries, as Argentina continues tied in a legal dispute with holdout investors that forced the nation into a selective default at the end of July this year.
However U.N. General Assembly resolutions are non-binding but carry a symbolic international political weight.
"It is a top priority to create a legal framework, with the aim of increasing efficiency, stability and predictability in the international financial system and the achievement of an equitable, inclusive growth," stated G77 president from Bolivia, Sacha Llorenti Soliz in a defense of Argentina's posture in the 'vulture funds' dispute.
"The peoples of the world have spoken and we have decided that the time has come to embark on an ethical, political and legal path together that can put an end to this unbridled speculation," Argentine Foreign Minister Hector Timerman told the U.N. General Assembly after the vote.
"The time has come to give a legal framework to the financial system for restructuring sovereign debt that respects the majority of creditors and which allows countries to come out of crises in a sustainable manner," he said.
Timerman also underlined it was essential to have protection from those he dubbed "sinister gentlemen of opulence."
"We must prevent more people paying with hunger and misery for the speculation of these sinister gentlemen of opulence: the vulture funds," the minister expressed.
"My country's situation reflects the need for a framework to protect us from a judge [Thomas Griesa] who ruled favor of 1% of bondholders."
Argentina defaulted in July after a New York court that governs some of its original bond contracts blocked a coupon payment. Argentina, in a battle with hedge funds, has since proposed swapping into local law bonds as a way of trying to get around the U.S. court orders.
The U.N. resolution "decides to elaborate and adopt through a process of intergovernmental negotiations, as a matter of priority during its sixty-ninth session, a multilateral legal framework for sovereign debt restructuring processes."
The purpose of this would be to increase "the efficiency, stability and predictability of the international financial system and achieving sustained, inclusive and equitable economic growth and sustainable development, in accordance with national circumstances and priorities."
In voting against the resolution, the United States said a statutory mechanism for debt restructurings would sow uncertainty in financial markets, and several states said the International Monetary Fund was the more appropriate venue for discussing the issue than the United Nations.
"If lenders face higher uncertainty regarding repayment they may be less likely to provide financing and will likely charge higher risk premiums, potentially stifling financing to developing countries," said U.S. Deputy Representative to the U.N. Economic and Social Council Terri Robl.
"Access to functioning debt markets enables developing countries to make the infrastructure investments essential to diversify economies and expand productive capacity," she said.
In Buenos Aires President Cristina Fernandez addressing a political rally in government house praised the decision which "is not for the benefit of Argentina, but for all those countries with sovereign debt that are at the mercy of a few speculators".