UK political leaders from all parties off to campaign in Scotland as YES vote advances
Thursday, September 11th 2014 - 16:29 UTC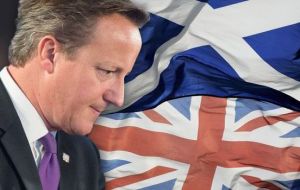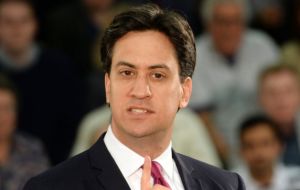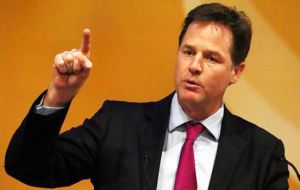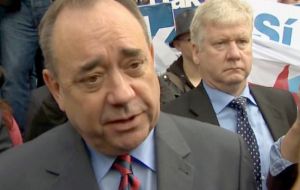 The leaders of the main UK parties have made a plea for a vote against Scottish independence, as they campaigned north of the border ahead of the referendum. Prime Minister David Cameron said he would be "heartbroken" in the event of a "Yes" vote, while Labor leader Ed Miliband said the case for the Union came from the "head, heart and soul".
Scottish First Minister Alex Salmond said the leaders could not be trusted.
A poll suggested 47.6% of voters back "No", 42.4% "Yes", with 10% undecided.
The new poll, by Survation for the Daily Record, was conducted before the Westminster party leaders announced their campaign visits.
Mr. Cameron and Mr. Miliband abandoned their usual Prime Minister's Questions session in the House of Commons to head north, after other recent opinion polls suggested the referendum race was now neck and neck.
Although the three leaders campaigned separately, they each called on voters to keep Scotland in the United Kingdom.
The three leaders have backed a plan of action spearheaded by former prime minister Gordon Brown, which they have said would see work begin on the handover of new powers on 19 September, the day after the referendum.
Speaking in Edinburgh, Mr. Cameron, who Downing Street has confirmed will return to Scotland on Monday, said he was often asked whether his party would find it easier to win UK elections without Scotland, which currently has one Tory MP.
He responded: "My answer to that is, I care far more about my country than I do about my party. I care hugely about this extraordinary country, this United Kingdom that we've built together.
"I would be heartbroken if this family of nations that we've put together - and we've done such amazing things together - if this family of nations was torn apart."
Mr. Cameron also said the referendum result was irreversible, adding: "Because it's a ballot, I think people can feel it's a bit like a general election, that you make a decision and, five years later, you can make another decision, if you're fed up with the effing Tories, give them a kick and maybe we'll think again.
"This is totally different to a general election. This is a decision about not the next five years, it's a decision about the next century."
Mr. Cameron, who along with Mr. Miliband, skipped weekly PMQs to campaign, argued the referendum was not about "Scotland versus Britain" but two competing visions of Scotland.
He argued a "No" vote was about keeping Scottish pride, patriotism, and nationhood as well as remaining part of a family of nations. The prime minister said a "No" vote would trigger a "very rapid and very comprehensive move" to ensure Scotland had greater devolved powers.
Also backing a "No" vote, Mr. Miliband, who spoke at a community centre in Cumbernauld, said: "I want to make the case to you today, head, heart and soul.
"I want to make the case to you from the head, which is that we are stronger staying together because we can better create a more equal, a more just, society.
"I want to make the case to you from the heart, because of the ties that bind us together and which would be broken apart by separatism.
"And I want to make the case to you from the soul, because it was in halls like this that our movement was formed on the basis of solidarity - solidarity that has built, not just our movement's greatest moments, but our country's greatest institutions, like our national health service."
The Labor leader said a "deadline for delivery" of new devolved powers would be implemented by the next Labor Westminster government, telling voters in Scotland: "Please stay with us.
"Stay with us because we are stronger together. Stay with us so we can change Britain together."
Mr. Clegg made his pitch to voters in Selkirk in the south of Scotland - key Liberal Democrat territory. The deputy prime minister, said: "The family of nations that makes up the United Kingdom has done remarkable things over a long period of time.
"We've beaten fascism in Europe, we've created the NHS, we've created the BBC, Team GB did do well at the London Olympics - let's keep doing the things that we do so well together but, as the same time, enter into an exciting new chapter of devolving new powers to Scotland as well."
He added: "Not only our generation but my children, my grandchildren all future generations, will be worse off, will be poorer, will be less safe, will be less secure if we have different parts of the United Kingdom turning our backs against each other. It's a momentous decision. It's a decision forever."
Mr. Salmond, also on the campaign trail, suggested the main concern of the three UK leaders was keeping their own jobs. "Today what we have got is an example of Team Scotland against Team Westminster.
"The breadth and reach of the 'Yes' campaign is there for all to see - it is not about the Scottish National Party, the Green Party or political parties. It goes right through the whole sector of Scottish society.
"What we are seeing today on the other side is Team Westminster jetting up to Scotland for the day because they are panicking in the campaign".