Argentina's situation "will not develop into a regional financial crisis", says UNCTAD
Friday, September 12th 2014 - 06:28 UTC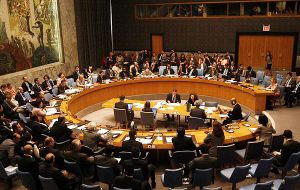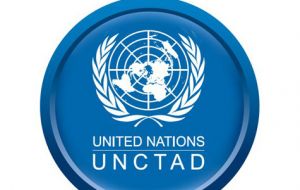 United Nations Conference on Trade and Development (UNCTAD) said that while Argentina was facing potential financial instability, its solvency and the sound macroeconomic fundamentals in other countries of the region "should prevent the shock from developing into a regional financial crisis."
The UN office criticized the legal obstacles Argentina has faced in servicing its restructured debt obligations.
The document that examines the global economy said that while the region is safe from financial contagion, economic growth in recent years has become lackluster.
"Latin America and the Caribbean has slowed down to an estimate two percent (GDP growth) in 2014," according to the report.
This reflects the slow growth in the region's three largest economies — Argentina, Brazil and Mexico — where domestic demand, which is their main driver of growth, has lost momentum.
UN experts said that global financial shocks between 2013 and 2014 had been a major factor in this decrease, causing macroeconomic policy to tighten.
However, the report also noted that the highly-liquid banking systems, small external and fiscal deficits and a sufficient amount of foreign reserves had permitted the region's countries to have enough of a buffer to prevent economic woes from spreading into a regional issue.
From the beginning of 2000, developing countries witnessed an increase in export concentration, meaning less diversification of exports and production, the UN warned.
Argentina, along with China and Mexico, showed a minor increase in comparison, but their export revenues were still dependent on a small set of products.