Chilean lawmaker arrested for alleged involvement in killing of activists in 1981
Friday, September 12th 2014 - 06:16 UTC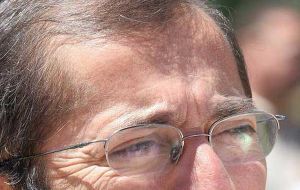 Forty-one years to the day after General Augusto Pinochet seized power in a military coup in Chile, a right-wing legislator was arrested for alleged involvement in the killing of three activists during the 17-year Pinochet dictatorship.
Congressman Rosauro Martinez of the center-right Renovacion Nacional party was arrested in the southern city of Valdivia in connection with the 1981 murder of the activists, who were opposed to the dictatorship, said Judge Emma Diaz Yevenes, who is in charge of the case.
Martinez, who had already been stripped of his congressional immunity, posted bail of 200,000 pesos (339 dollars).
Prosecutors allege Martinez, an army captain at the time, and three soldiers accompanying him fired on a house where the activists were hiding, killing all three.
"Chile needs more truth and more justice so we never live the horror of dictatorship again," government spokesman Alvaro Elizalde said after a ceremony in Santiago commemorating the 41st anniversary of the Sept. 11, 1973 coup.
Pinochet died in 2006 at the age of 91. He never faced a full trial for crimes committed during his 1973-90 rule, during which an estimated 3,000 people were kidnapped and killed or disappeared, and 28,000 were tortured.