With the new bill "Argentina wants to pay, can pay and will pay all contracted debts"
Friday, September 12th 2014 - 06:55 UTC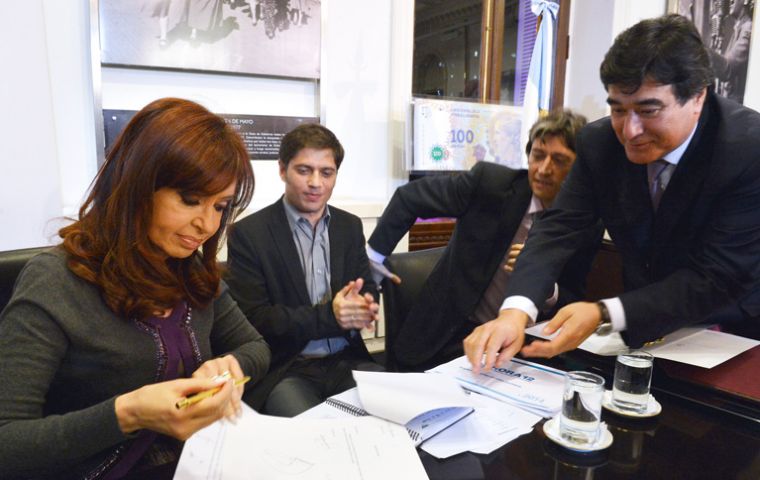 Argentine President Cristina Fernández signed into law the Sovereign Debt bill, which changes the payment location of Argentine bondholders and which was approved by Congress early Thursday morning after 18 hours of debate.
The Argentine leader assured that with the new bill "Argentina wants to pay, can pay and will pay all the contracted debts," in a clear reference to the judicial dispute with the holdouts and the consequent adverse ruling by US Federal Judge Thomas Griesa.
"This law assures the payment for 92,4% of bondholders which in addition contemplates the interest for those investors who did not take part of the two previous debt swap processes," the head of state explained.
According to Cristina Fernandez, Argentina's current financial situation has nothing to do with the last socio-economic crisis which took place in 2001, as she described that today, "we are in an exactly reverse situation, in 180 degrees," and recalled she served as a Senator during that time.
"In December [2001] I was a Senator in a Congress that applauded the default," admitted Cristina Fernández.
The President remarked the international support Argentina enjoyed during its struggle with the so called 'vulture funds', emphasizing the role of the United Nations which earlier this week passed through its General Assembly a resolution that seeks to achieve a new control framework for foreign debt, "so no country will suffer what Argentina is living today," underlined Cristina Fernandez.
Earlier in the day Cabinet chief Jorge Capitanich celebrated that the government's new debt swap plan became a law and bashed opposition lawmakers who voted against the Executive's bill saying they "respond to a strategy designed by vulture funds.'
Ruling Victory Front lawmakers passed the Sovereign Payment bill -establishing the local payment agent for creditors, a new voluntary debt swap, and the creation of a permanent bicameral debt oversight committee- in the Lower House of Congress with barely no support from opposition blocs.
"Those who vote in favor are for the defense of the country's sovereignty and those who vote against are for vulture funds' vested interests," Capitanich fired in his daily press briefing at government house.
The chief of minister referred to the swap bill vote as a "watershed" between lawmakers who support "a national and popular perspective" and those who, on the contrary, "respond to a strategy designed by vulture funds."
Lawmakers in the Lower House passed the Executive's Sovereign Payment bill early Thursday after almost 17 hours of debate, by 134 votes in favor, 99 against and 5 abstentions.
The special session began at noon Wednesday and the vote took place minutes after 5.30 am Thursday. Ruling Victory Front (FPV) legislators approved the measure, which is now law, with barely no support from opposition blocs.
In related news Buenos Aires province Senate approved a bill pushed by Victory Front's lawmaker Patricio Garcia to take Argentina's battle against holdouts (vulture funds) to the province's classrooms. "Our youth deserve to understand what is being discussed," Garcia said.
The lawmaker stressed that the idea to add the battle against the country's holdout creditors to schools' curricular contents was founded in "the belief that this is a crucial time for the future of national economy, after a ruling that has been described almost unanimously as unfair by both national and international analysts," he said in reference to US Judge Thomas Griesa's ruling favourable to Argentina's holdout creditors.
"Our children, our youth deserve to know what is being discussed in order to get involved in decision making that will shape the country's and their personal future," García said.