Argentina guarantees car makers sufficient dollars to meet production target
Saturday, September 13th 2014 - 06:44 UTC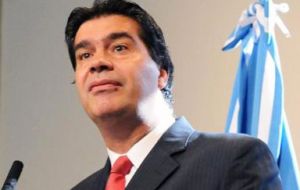 Car makers in Argentina have sufficient dollars to meet production and sales targets, the government said Friday, a day after General Motors Co announced it had suspended exports from Brazil to its Argentine unit due to a hard currency shortage.
Brazilian newspaper Valor on Thursday cited the U.S. automaker's president for South America, Jaime Ardila, as saying trade flows would normalize once Argentina resolved its sovereign debt crisis.
Argentina has tightened controls on imports since it defaulted on its debt in July and is restricting the amount of dollars available to importers in an attempt to protect its already thin foreign reserves.
However following a meeting between government officials and car makers on Friday, the government of President Cristina Fernandez had committed to guaranteeing automakers 100 million dollars a month for the import of car parts.
"The flow of hard currency is guaranteed," Argentina's chief of cabinet, Jorge Capitanich, told reporters.
The move by General Motors highlights how Argentina's capital controls are hampering big business as South America second strongest economy sinks deeper into recession.
A spokesman for the Brazilian unit of General Motors said Ardila's comments were "related to the need to prioritize the importation of components for production over importation of vehicles, at a time when Argentina faces a restriction of dollar availability in the very short term."
Following its July debt default, Argentina has locked horns with car manufacturers that have slowed down production in the face of weak domestic and regional demand and tough trade and currency controls.
Tight controls on trade and the currency market have created imbalances in the economy, which tipped into recession in the first quarter of 2014 as the government grappled with a dollar liquidity crisis, falling exports and anemic foreign investment.
Now the government is ramping up state interventions in the economy to try to prevent its latest debt default from triggering a balance of payments crisis. But its policies are battering business confidence and may deepen the recession.
General Motors produces 13% of cars manufactured in Argentina, according to the Association of Automotive Manufacturers. It competes in the local market with Ford Motor Co, Honda Motor Co Ltd, Toyota Motor Corp , Volkswagen AG, Peugeot SA and Renault SA.