VisitBritain: UK to refund cost of visa for Chinese tourists in organized groups
Tuesday, September 16th 2014 - 05:57 UTC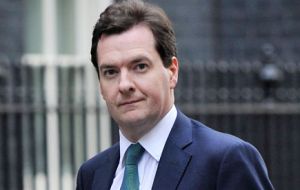 British Chancellor George Osborne has announced plans to refund the cost of up to 25,000 visas for Chinese tourists in an attempt to attract more visits to the UK. It was one of a series of measures announced at an economic summit in London, attended by Chinese vice premier Ma Kai.
"The more Chinese tourists the merrier," the chancellor said.
He also announced deals worth £2.6bn between Chinese and British firms.
The visa refund plan would apply to Chinese tourists visiting Britain in organized tour groups.
The government will also exempt approved tour groups from needing a transit visa, making it easier for Chinese tourists to use British airports as hubs for international travel.
"I think that will strengthen British aviation, strengthen British airports as hubs for direct routes to China, so that people use British airports as a jumping off point for trips around Europe," Mr Osborne said.
"Of course one of the really exciting things we see all around is more and more Chinese tourists coming to the United Kingdom and they are very, very welcome," he added.
More flights between the two countries have also been agreed and £1.6m will be spent marketing Britain in China.
National tourism agency VisitBritain welcomed the visa plan, describing it as "the perfect catalyst to enable Chinese tourists to not only visit Britain, but travel right across the country".
Other deals agreed include British businesses helping to build Chinese websites and rail infrastructure as well as Chinese investment in areas such as UK shipping, golf courses, and healthcare.