Emma Watson draws hundreds of young fans in Montevideo during the UN goodwill visit
Thursday, September 18th 2014 - 06:08 UTC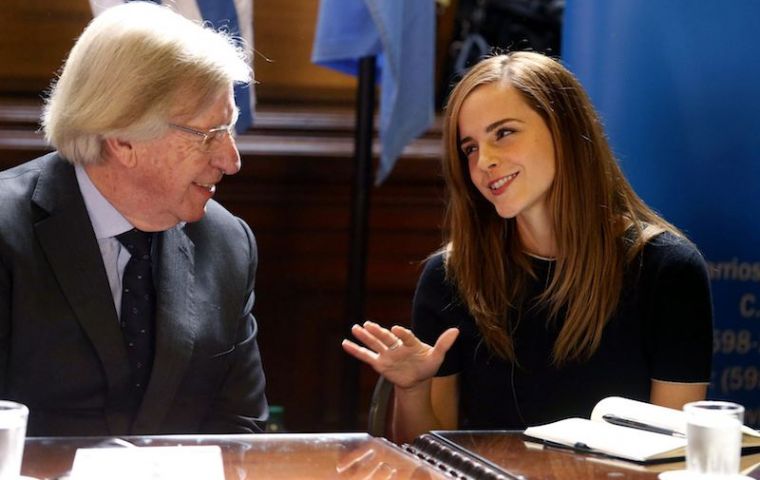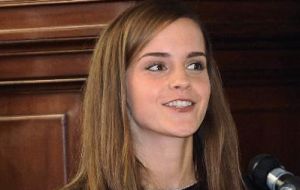 British actress Emma Watson drew hundreds of young fans on Wednesday as she visited Uruguay's Legislative Palace to promote women's participation in politics in her new role as a UN goodwill ambassador.
Watson, who played Hermione in the Harry Potter films, was greeted by an ecstatic crowd as she arrived to deliver a petition with 5,500 signatures calling on Uruguay's General Assembly to pass a bill implementing quotas for women lawmakers.
About 100 fans, mostly young women, also made it inside the building even though organizers had tried to keep the visit under wraps.
"Seeing so many young people standing outside this parliament and in this room today gives me such a feeling of excitement and gratitude," said the 24-year-old starlet.
"I'm proud to be here on this day, when women's participation becomes a priority in this country. I'm immensely touched by the reception".
Watson was named a goodwill ambassador for the UN women's agency in July. The Uruguay visit is her first trip to Latin America in her new role, although last week she was surprised in the south of Chile.
Just 14% of Uruguay's legislators are women. Under new rules adopted for elections next month, at least one-third of all parties' candidates must be women.
But critics say loopholes still allow parties to prioritize their male candidates for seats. The petition, sponsored by women's rights organizations, calls for quotas requiring half of all candidates and public officials to be women.