BBC predicts 54% to 46% win for the NO vote against independence
Friday, September 19th 2014 - 05:42 UTC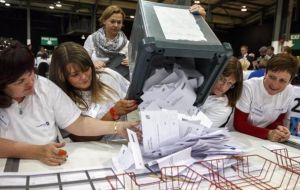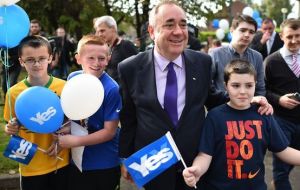 Scotland will vote to stay in the United Kingdom after rejecting independence, the BBC has predicted. With 26 out of the country's 32 council areas having declared after Thursday's vote, the "No" side has a 54% of the vote, with the "Yes" campaign on 46%.
By 05:15 BST (06:15 GMT), the "No" campaign had more than 1,397,000 votes, with "Yes" on just over 1,176,000. A total of 1,852,828 votes is needed for victory. The vote is the culmination of a two-year campaign.
The BBC is predicting on the basis of votes declared so far by Scotland's local authorities the "No" side will win the referendum with 55% of the vote while "Yes" will secure 45% of the vote.
This margin of victory is some three points greater than that anticipated by the final opinion polls.
Glasgow, Scotland's largest council area and the third largest city in Britain, voted in favor of independence by 194,779 to 169,347, with Dundee, West Dunbartonshire and North Lanarkshire also voting "Yes".
But Aberdeen City voted "No" by a margin of more than 20,000 votes, while there have also been big wins for the pro-UK campaign in many other areas.
Scottish First Minister Alex Salmond, who led the pro-independence "Yes" campaign, is expected to make a statement from his official residence at Bute House in Edinburgh.
In his first public comment since the results started coming in, Mr Salmond tweeted: "Well done to Glasgow, our Commonwealth city, and to the people of Scotland for such incredible support."
Prime Minister David Cameron said: "I've spoken to Alistair Darling (head of the pro-UK Better Together campaign), and congratulated him on a well-fought campaign."
PM Cameron is expected to respond to Scotland's decision in a live televised address following the final result.
Deputy First Minister Nicola Sturgeon told the BBC the projected result was "a deep personal and political disappointment" but said "the country has been changed forever".
Ms Sturgeon said she would work with "anyone in any way" to secure more powers for Scotland. (BBC).