Gibraltar governor supports deployment of large UK naval vessel to patrol territorial waters
Saturday, September 20th 2014 - 08:03 UTC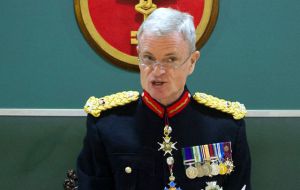 Gibraltar Governor Sir James Dutton has publicly voiced strong support for the deployment of a larger British naval vessel to patrol Gibraltar's territorial waters.
Sir James, a retired Royal Marine with a distinguished military record, said such a move would send "a really valuable message" in the face of persistent incursions by Spanish state vessels.
"I think it should happen, I have always thought it should happen, I've always said it should happen," he said during a wide-ranging interview on GBC's Talk About Town.
Sir James said deployment of an offshore vessel would strengthen the Royal Navy's ability to patrol British waters and stay at sea for longer periods of time.
The governor also revealed that "many" officials at the Foreign & Commonwealth Office supported such a deployment, but that other factors had to be considered including parallel demands on the UK's limited resources.
"I would be lying if I said one is going to arrive next week, but there is a strong push for it and there is a lot of sympathy, there is a lot of support," he said.
During the interview, Sir James said Spain was unlikely to shift in its 300-year old position on Gibraltar and that it was important to seek ways of managing the situation through diplomacy so that tensions did not escalate.
He said Britain now had a "pretty slick" process of responding to Spanish incursions and said that in the more serious cases, people should not underestimate the impact of calling in the Spanish ambassador, as has happened several times over the past year.
Such occasions "are not tea parties" but rather "interviews without coffee", he said. But he also said that Britain was "fairly short of options" and that no one wanted to resort to violence.
Sir James acknowledged the suspicion with which many people here view the Foreign Office but defended its work on Gibraltar.
"I certainly don't agree with everything that the Foreign Office does, but 90% of what it does in relation to Gibraltar is wholly and completely in support," he said.
Sir James described the border delays as "absolutely unacceptable" between two modern democracies, adding that it was important that the European Commission was no engaged on the matter.
"Now they are on the hook and it's become part of their problem too," he said of the Commission. "They've got to keep returning, they've got to keep checking and they've got to keep putting pressure on."
Sir James said Britain and Gibraltar wanted trilateral dialogue with Spain but that Madrid had stepped back from its agreement.
He said Gibraltar would always be represented at any talks in its own right and that the UK's commitment to the double-lock assurance on sovereignty meant there was no prospect of bilateral discussion on Gibraltar between London and Madrid.