Glaxo fined 490 million in China and apologizes for illegal activities
Saturday, September 20th 2014 - 09:30 UTC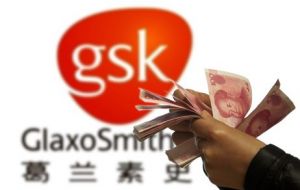 A Chinese court on Friday fined British drug-maker GlaxoSmithKline 3.0 billion Yuan (490 million dollars) following a nearly year-long bribery probe, the company said.
The fine, levied by the Changsha Intermediate People's Court after a closed hearing in central Hunan province, was the largest ever handed down by a Chinese court, according to the official Xinhua news agency.
Chinese authorities had accused GSK employees of bribing hospitals, doctors and health institutions to gain billions of dollars in illegal revenue.
The Changsha court ruled that GSK had, "according to Chinese law, offered money or property to non-government personnel in order to obtain improper commercial gains, and been found guilty of bribing non-government personnel," the drug-maker said in a statement.
"The illegal activities of GSKCI are a clear breach of GSK's governance and compliance procedures; and are wholly contrary to the values and standards expected from GSK employees," it said.
The drug-maker also posted a statement of apology to the Chinese government on its website.
The Changsha court also on Friday sentenced British national Mark Reilly, the former head of GSK's China operations, and an unstated number of other company officials to between two to four years in prison, Xinhua reported.
GSK made no mention of the prison sentences in its statement.