A third of Argentina's population 'vulnerable' to falling back into poverty, says World Bank
Monday, September 22nd 2014 - 05:01 UTC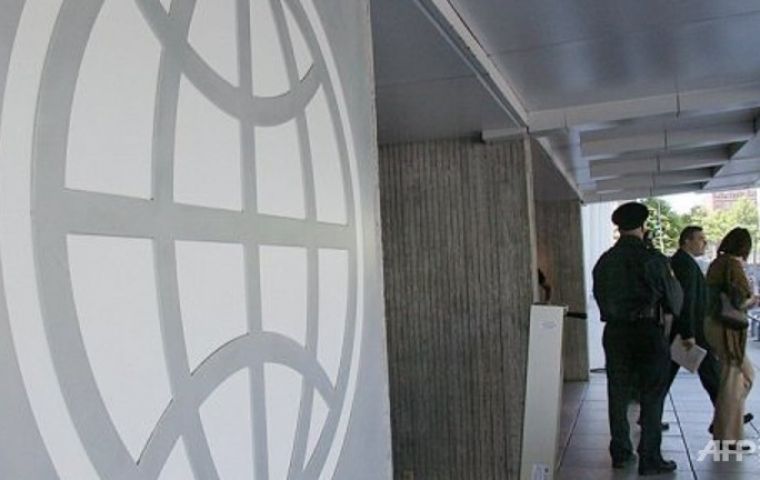 Approximately 33% of Argentina's population (or those living with between 4 and 10 dollars per day) are vulnerable to falling into poverty if faced with adverse economic conditions, the World Bank said in its 2015-2018 Country Partnership Strategy (CPS) report for Argentina.
The multilateral organization estimates there is a poverty rate of about 11% in Argentina, but has highlighted that the country should "focus on the need to sustain social gains achieved in recent years and expand social inclusion in an efficient and sustainable manner."
The World Bank report, published for internal use in August of this year but made public more recently, thus echoes warnings made by the United Nations Development Program (UNDP) about stalling social progress in the region.
Vulnerable populations, for the purposes of social policy, are those who have made it out of poverty but do not enjoy economic security like the middle class does. They live on an average 4 to 10 dollars a day and risk being clawed back under the poverty line by economic turmoil, recession or volatility.
The UNDP recently warned that up to one-third of Latin America is at risk of being clawed back in to poverty as the region's economies face slowing growth rates.
Argentine Economy Minister Axel Kicillof last week revised GDP estimates for 2014 downward, saying that the government projected a mere 0.5% rate of growth this year.
The report praises the country's recent economic policies, noting that "economic growth during 2003-2013 was inclusive, making Argentina one of the top two Latin America and Caribbean performers in terms of poverty reduction and improvements in shared prosperity."
But it also adds that the country's most vulnerable populations have historically stemmed from the "economy's exposure to adverse economic shocks, which reduces employment and earnings and limits the ability to finance social programs supporting the poor."
The very same report adds that economic activity rallied in 2010-11 but has since slowed, fiscal accounts are under pressure as a result of expenditures outpacing revenues and that a worsening trade balance has lead to a deterioration of external accounts.
Despite action by the government to tighten monetary policy and restrict some spending, a low debt-to-GDP ratio, the World Bank is anticipating that in that the short-term a "prolonged slowdown is more likely than a deep economic rift" as a result of sluggish economic performance, continued inflation, dropping international reserves and continued uncertainty over the holdout debt saga and reduced economic growth in China and Brazil.
As a result of this imminent slowdown, the World Bank's plan calls for a "strengthening of macroeconomic resilience, improving the business environment, and boosting investor confidence" noting that it will be critical to "fostering investment and expanding and sustaining the employment thereby generated."
Key areas of World Bank focus will increase the access to services and assets such as urban mobility, improving resistance to environmental risks and sustaining employment in farms and firms.
All is not gloom and doom for the World Bank though, as it also noted that the in the medium-term the country can be considered to be "moderate" while noting that because of "vast reserves of natural resources and sound social indicators" the long-term prospects for economic growth remain strong.
Summing up, the World Bank considers that once short-term hurdles that threaten employment, growth and social spending are overcome by way of promoting increased labour productivity and promoting a more business-friendly environment.
To that end the World Bank will be reducing its highway maintenance budget and income support for the poor and redirecting it towards generating youth-employment programs and backing the private sector, specifically directing its financing towards low-income geographic areas, namely the country's north.