The first 'UK-Germany climate change diplomacy day' celebrated in Santiago
Wednesday, September 24th 2014 - 04:53 UTC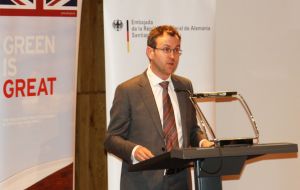 The British and German embassies in Santiago hosted the first UK-Germany Climate Change Diplomacy Day. The joint initiative was organised to increase the awareness of the importance of climate change as it is a critical issue for both countries.

Over 100 participants attended the event to watch the film 'the Age of Stupid' which gave viewers a glimpse of the potential environmental, social and economic consequences climate change could have on the world by 2055.

Following the film Dr. Rondanelli from the centre of Climate Science and Resilience at the University of Chile spoke briefly about the latest scientific evidence on climate change, and provided an update since the film was released.

After the opening marks from the German Ambassador Hans-Henning Blomeyer-Bartenstein, the Deputy Head of Mission Mal Green said that bilaterally, the UK has been working with Chile to decarbonise its economy, including through projects on renewable energy, low carbon transport and sustainable buildings, amongst others.

"We are pleased to be here with Germany today. Our countries are working together at a global level on the issue. We are attending at the highest level the UN Secretary-General's climate summit this month. And both countries are looking for an ambitious outcome at the annual climate change negotiations, this year to be held in Lima in December. In Chile, we are also working together.

"We are very happy that the Germany-UK NAMA Facility, a financing mechanism for low carbon projects, provisionally selected a Chilean renewable energy project as one of the first four projects globally under this Fund last year.

"In the film, we will see the potential impacts of climate change in forty years time, which provides interesting food for thought for how the world is tackling the challenges presented by climate change today.

"The UK and Germany think that climate change is a crucial economic and environmental issue facing the world today. We think that the scientific and economic evidence shows that the best course of action to protect our planet and our economies is to reduce carbon emissions at a global scale".