Brazil scrambles to support the Real; as Dilma recovers in the polls the currency falls
Thursday, September 25th 2014 - 03:14 UTC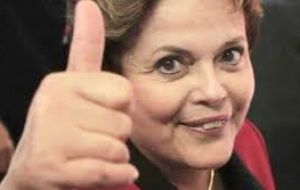 Brazil's Real advanced from a seven-month low as the central bank signaled it will maintain support for the currency when it increased the number of foreign-exchange swap contracts offered in a rollover.
The currency climbed 0.2% to 2.4062 per U.S. dollar in Sao Paulo on Wednesday after falling on Tuesday to 2.4120, the weakest level since Feb. 12.
Even when the central bank said it was raising the number of contracts offered in Wedneday's rollover auction to 15,000 contracts from 6,000, Real has fallen 6.8% in September on concern Brazil will struggle to recover from its first recession since 2009 as polls before the Oct. 5 election showed increased support for President Dilma Rousseff.
"The central bank's action will support the currency today (Wednesday), at least at the beginning of the day," anticipated Joao Paulo de Gracia Correa, a trader at Correparti Corretora de Cambio in Curitiba, Brazil
"The Real is facing strong downward pressure as Rousseff rises in the polls."
A Vox Populi poll published this week showed Rousseff would defeat Marina Silva in a probable runoff while other surveys showed the race remained too close to call.
The incumbent's backing in the recent Vox Populi poll increased to 46% for an Oct. 26 second-round vote, up from 41% in the last survey published Sept. 15. Silva's support fell to 39% from 42%, according to the poll published by the R7 website. The Sept. 20-21 poll, which had a margin of error of 2.2 percentage points, surveyed 2,000 people.