Falklands/Malvinas: Cristina Fernandez demands dialogue at UN and blasts Security Council
Thursday, September 25th 2014 - 03:17 UTC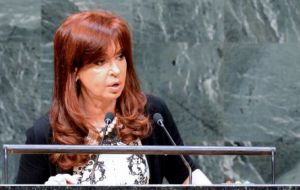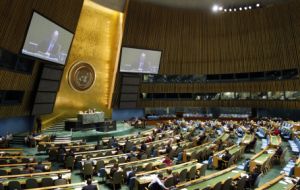 President Cristina Fernández addressing on Wednesday the United Nations General Assembly said Argentina, in the context of a complex world situation, has become a triple leading case, (vulture funds, terrorism) and one referred to 'the use of force and territorial integrity', more specifically the pending dispute with the United Kingdom over the Falklands/Malvinas.
Following on this line of thinking Cristina Fernandez demanded the implementation of the much promised and announced reforms of the United Nations, and hit out at the Security Council, where five votes count more than the whole General Assembly. (United States, UK, France, Russia and China).
"Earlier this morning I heard a leader speak about the use of force to make an attempt on the territorial integrity or not to respect the territorial integrity of a country, and here also Argentina is a leading case", explained the president at the opening of the 69th UN General Assembly.
"And we are a leading case because we have pending for over a hundred years, with the UK, a claim of sovereignty and a claim from this very Assembly for the UK to sit down with Argentina to discuss the sovereignty question of the Malvinas Islands", but nobody worries since there is no veto from the Security Council.
And this happens because Argentina is not part of the Security Council or one of the nations that decide in the world, and "as long as a vote of one of the permanent members seating in the Security Council is stronger than that of Ivory Coast, Ghana, Kenya, Egypt, Uganda, Argentina, Bahrain, or the Arab Emirates, nothing will be solved. It will only be speeches, here, every year without ever reaching a solution".
"We must fight, this Assembly must demand devolution of the powers it has delegated, powers delegated to the Security Council, which, in what is a paradox, the Assembly must request permission to see on what it decides or if any other member belongs to the family. We must rescue for this Assembly sovereignty, UN sovereignty, where each of us has one vote, is worth one vote, a true global democracy".
Cristina Fernandez added that when global democracy is strictly implemented, "I'm not saying absolutely everything will be solved, but yes I do believe that this will mean the start of a solution".
"I'm not pessimistic or optimistic, but I want to be realistic. In any case between pessimism and optimism, I always chose optimism but with realism, because optimism without realism is to be either naive or cynical. And I don't want to be any of the two before you".
Finally this is what we really think in Argentina, and that from this place we have been claiming since a long time the reform of the security organizations, and the reform of the IMF.