Pacific alliance anticipates incorporation of new full members in the near future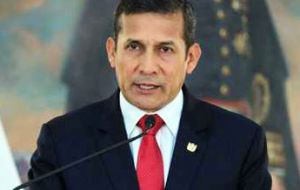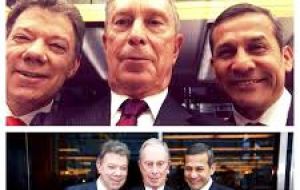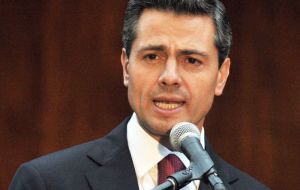 In the near future the number of full members belonging to the Alliance of the Pacific will increase, but the block will continue with its realistic and pragmatic approach with no intent of a political group, said Peruvian president Ollanta Humala next to his peers from Chile, Colombia and Mexico, in New York, during a meeting hosted by Bloomberg.
 "In the near future some of the 32 observer countries will be incorporated to the Alliance as full members; we favor the expansion of the group which we emphasize, is not and has no intention of becoming political", said Humala.
"We have a responsibility as founding members of creating the spaces for other countries to join the Alliance of the Pacific, and this will happen in my opinion, in the short and medium term", he added.
Colombian president Juan Manuel Santos pointed out that his country's economy had expanded with the Alliance and "we share the need for new members to make us stronger or relatively stronger".
Together with their peers from Chile, Michelle Bachelet, and Mexico Enrique Peña Nieto, at the news agency headquarters invited by billionaire and former mayor of New York, Michael Bloomberg, the four leaders emphasized that their goal was to attract investments to the Alliance, "a block which is not political, but pragmatic and realistic targeting healthy sustained economic growth".
The four presidents met in New York because they all attended the opening of the 69th United Nations General Assembly, and for a series of bilateral and multilateral meetings.
Bloomberg defined the Latin American leaders as "the people who are moving markets and shaking the world", with an incredible potential of 237 consumers and an overall GDP of 2.2trillion dollars and "political and democratic stability, with guarantees for investors, where contracts and rules of the game are respected, and with an abundance of natural resources".
The four leaders of the group which kicked off on June 2012 said that the immediate experience has been most positive for strengthening their economies and announced new projects to continue advancing, this time in tourism, hotels and leisure as well as in finance.
Mexico Peña Nieto defined the Alliance of the Pacific as a group of 'open countries' with economies closely knit to foreign trade, and "involved in structural transformations so as to expand social rights and strengthen our democratic institutions".
"We are involved in growth policies that make compatible the active participation of the private sector with the country not losing control over its natural resources, particularly when it comes to hydrocarbons", added Peña Nieto who just recently managed to pass a bill reforming the whole hydrocarbons sector, for decades under government monopoly: the mother of all reforms", affirmed Peña Nieto.
Chile's Bachelet describing 'realistic' said that economic growth is not a target in itself, but a mechanism for development, and insisted on this because "we need to have a better income distribution context in our countries, since Latin America is the world region with the greatest inequalities".
Bachelet also admitted that in the last two years the regions has undergone a 'deceleration' process, which means growth rates are below what was expected and estimates, but "this does not mean recession, rather that we are expanding at a slower rate".