Argentina lashes Griesa for not making a final decision on the Citibank dispute
Saturday, September 27th 2014 - 09:24 UTC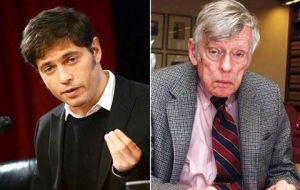 Argentina's Economy minister Axel Kicillof lashed out at US Judge Thomas Griesa after he authorized Citibank a one-off payment of Argentine bonds' coupon next Tuesday saying he once again failed to address the heart of the issue and also in fact recognized that bonds under Argentine law do not belong to his jurisdiction.
 In an extended audience where once again the real issues were not resolved regarding an incredible sentence, Judge Griesa decided to allow payment next 30 September of bonds ruled by Argentine law, begins the brief release, once Friday's afternoon decision in New York was made public.
Even when during the audience Judge Griesa admitted arguments presented by Citibank and Argentina, that in effect those bonds are not covered by his pari passu ruling, he did not dare make a definitive decision, appealing for a second time to a transitory order.
Both the evidence and arguments presented by Citibank and Argentina, in reiterated occasions have proven that the bonds under Argentine law are not foreign debt and are out of the Judge's jurisdiction. Nevertheless the Judge postponed for another 30 days a definitive decision on the matter, continues the release.
Today's (Friday) audience once again comes to reveal that Griesa's orders are not only unjust, for they are supported in a completely wrong interpretation of the pari passu clause, but are also of impossible compliance.
Although the Judge today avoided Citibank from falling into non compliance of Argentine law next 30 September, by postponing the decision, he continues to cause harm on Argentina and the thousands of bond holders who have been taken hostage by the vulture funds, whom this way retain another extortion tool in their hands, concludes the late evening release.
Ciribank faces serious regulation sanctions in Argentina, including the possible suspension of its license if it did not comply on Tuesday with the interest payment of the bonds under Argentine law.
However Griesa did give the holdouts pressing on Argentina for full payment of their bonds, and Citibank another 30 days to come up with the necessary arguments to make a definitive ruling on the litigation.