Griesa allows Citibank to process a one-off payment of Argentine bonds
Saturday, September 27th 2014 - 09:12 UTC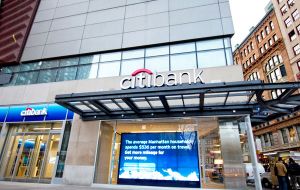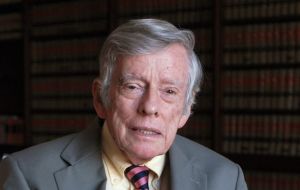 US District Judge Thomas Griesa has enabled Citibank to process a one-off payment on US dollar-denominated bonds issued under Argentine law, during a hearing held at Manhattan federal court on Friday.
Citibank asked Griesa to reconsider or at least stay his July ruling barring the bank from processing the payments, including one for 5 million dollars due September 30. The bank has said it faces regulatory and criminal sanctions by Argentina if it cannot process the payment following the country's 2002 default.
With the ruling, Citibank can now make a one-off payment and meet the deadline, and leave it three months before the next payment by Argentina on 31 December for 262 million dollars is due to litigate over the order.
After more than two hours of debate, Judge Griesa agreed to a temporary stay on his previous order that had blocked the payment. He also called for another hearing in 30 days to consider arguments from Citigroup that its activities related to the Argentine bonds were exempt from his rulings (US courts).
"We do not want to be here over and over again," Judge Griesa added, referring to what has become an increasingly messy case.
One of the judge's earlier rulings in favor of the hedge funds had blocked Citigroup's Argentina branch from making the payment. Citigroup then made a plea to the United States Court of Appeals for the Second Circuit to reconsider the decision, saying that it faced "grave sanctions" from Argentina and that the country was holding a gun to its head. The appeals court rejected the case, however, and sent it back to Judge Griesa's court.
The stay will allow Judge Griesa time to consider new evidence submitted by Citigroup, which has sought to establish that his order should not apply to it.
Citibank is in a difficult position: if they pay the money from Argentina to bondholders, they will defy Judge Griesa's order. But if they do not, they face severe penalties from Argentina, including the loss of its operation license.
In an attempt to extricate itself from the bigger battle, Citigroup has argued that the payments it has received are for bonds governed by Argentine law, not by New York law, and thus are not covered by Judge Griesa's injunction.
Lawyers for the holdout hedge funds, meanwhile, contend that exempting Citigroup from Judge Griesa's injunction would "open the floodgates for others to request carve-outs, killing the injunction by a thousand cuts and straining the court's resources."

Separately, Judge Griesa will hold another hearing on Monday to determine whether Argentina is in contempt of court.