Marina Silva pledges to de-politicize regulatory agencies and state corporations
Saturday, September 27th 2014 - 06:34 UTC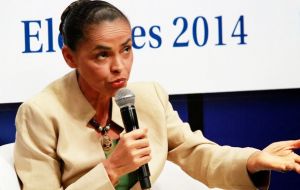 Brazilian presidential candidate Marina Silva vowed to de-politicize regulatory agencies that she says do more to win favor with government allies than ensure fair and efficient markets in Latin America's biggest economy.
Silva, who is running neck-and-neck with President Dilma Rousseff in polls ahead of next month's election, accused the ruling Workers' Party of undermining regulation by stacking government watchdogs with party members and allies during its 12 years in power.
"Agencies have been overtaken by a political logic," she said adding that similar interference is weakening state-run companies like Petrobras, the oil company currently embroiled in a kickback scandal.
If elected, Silva added, she would prioritize "ethical and technical criteria" among regulators and use a non-partisan committee to select them.
A 56-year-old former rubber tapper and maid whose activism as an environmentalist catapulted her to Brazil's Senate and a five-year run as environment minister, Silva has upended the electoral campaign ahead of a first-round vote on Oct. 5.
Originally a vice presidential candidate, she was thrust into top billing for the Brazilian Socialist Party when her running mate, Eduardo Campos, was killed in an August plane crash.
Since then, Silva, who could become Brazil's first mixed race president, surged to become a frontrunner and she is expected to go into a runoff vote against Rousseff on Oct. 26.
If elected, she will be tasked with jump-starting an economy now in its fourth year of lackluster growth, weak investment and a loss of competitiveness by major industries. She would also have to tame an unruly Congress that has proven restive even when far bigger parties have controlled it.
So far, Silva has drawn voters with promises to maintain popular welfare programs, push for more sustainable development and return to the market-friendly fiscal policies that paved the way for a near decade-long boom that fizzled in 2011.
Silva's call for more independence for regulators is similar to a key pledge she made early in her campaign to grant formal independence to Brazil's central bank.
Economists, and Rousseff's opponents, have said that political pressure by her administration has led the bank to grow more lenient with inflation, now running at just over the government's official tolerance ceiling of 6.5%.
But Silva declined to specify just how she plans to seek independence for the central bank. She also declined to say whether the bank's mandate would move beyond its current focus on inflation.
"We want the best arrangement for Brazil," she said, acknowledging the more comprehensive role that the Federal Reserve, for instance, plays in fighting unemployment in the United States.
Silva is the only candidate to publish an extensive, point-by-point agenda on critical issues and proposals. However since that agenda was released, however, she has grown more cautious because of efforts by Rousseff and centrist rival Aecio Neves to poke holes in it. Rousseff campaign ads suggested that Silva's plan for the central bank would take food off the tables of poor Brazilians.