UN Human Rights Council sides with Argentina condemns 'vulture funds'
Saturday, September 27th 2014 - 07:59 UTC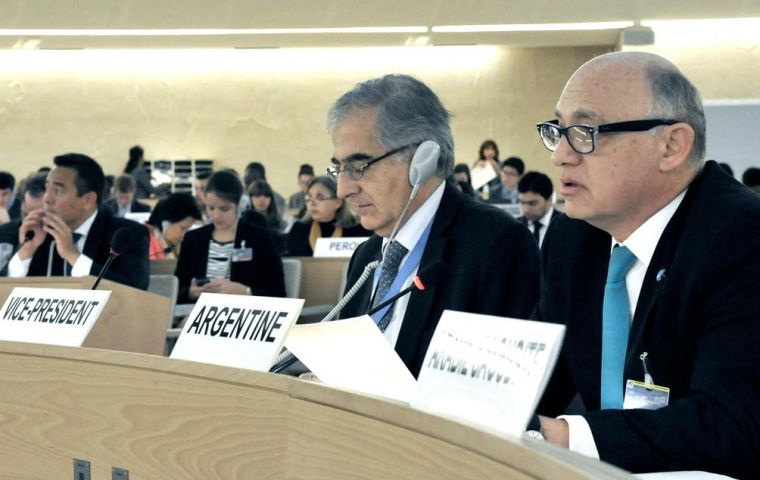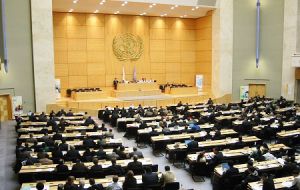 The United Nations Human Rights Council meeting in Geneva on Friday adopted an Argentine-fueled resolution which condemns the so called 'holdouts' or "vulture funds", currently in a legal dispute against the country.
"Vulture funds will not stop until we put the break on," Argentina Foreign Minister Hector Timerman said when referring to the document approved by 33 votes in favor, five against, and nine abstentions.
The resolution is titled: "Consequences for foreign debt and international financial obligations of States for the full enjoyment of human rights, economic, social and cultural rights. Vulture funds activities."
The resolution was tabled by Argentina along with Russia, Brazil, Venezuela and Algeria.
Six out of 11 nations that voted against the project to regulate international debt restructurings in the UN were present in the council: USA, Czech Republic, Germany, Ireland, Japan and Great Britain.
Ireland abstained from voting, together with Austria, Estonia, France, Italy, South Korea, Romania and Macedonia.
The 5 nations that voted against the initiative argued that the complaint has to be issued in an international credit organization and not the Human Rights Council.
"The resolution not only condemns vulture's activities, but also urges the UN to investigate their behavior and analyze their effect over sovereign economies," Timerman explained.
Several Western envoys noted that the issue was already being dealt with by the International Monetary Fund, the G20 group of major economies, and the UN General Assembly.