Record soybean and wheat crops forecasted by the International Grains Council
Monday, September 29th 2014 - 09:09 UTC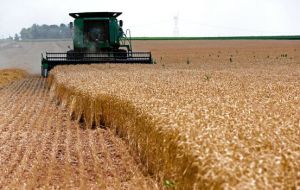 The 2014-2015 season's soybean and wheat crops are on track to set records, while rice and corn look poised to be more in line with last season's record crops, according to the International Grains Council's September Grain Market Report.
Soybean production is expected to hit 310 million tons, about 10% higher than last year's output. That increase is expected to continue as new soy plantings boost yields in parts of Brazil and Argentina.
Wheat is also on pace for a record worldwide crop as yields out of Europe, China and the Commonwealth of Independent States are expected to be strong enough to make up for weaker seasons in North America, Australia and Near East Asia. This year's worldwide wheat crop projection was amended last Thursday's report to an expected total of 717 million tons, up 58 million over last year's haul of 713 million tons.
Meanwhile, rice production is on pace to match last season's 476 million tons, according to the Grain Market Report. A smaller crop in India is expected to be offset by increased production elsewhere.
Corn production is expected to be up on strong U.S., EU and Russia crops, though that increase will be tempered by the first decrease in China's corn yield in five years, according to the report. This season's corn crop is expected to total 974 million tons, down slightly from last season's 983 million tons